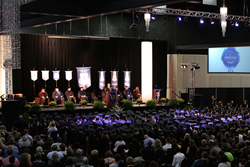 Orange Beach, Alabama (PRWEB) October 23, 2015
The excitement was contagious at Columbia Southern University's annual commencement ceremonies which featured more than 3,800 graduates and guests on Friday in Orange Beach, Ala.
Two graduation ceremonies, comprised of 730 graduates, were conducted at the Orange Beach Event Center.
"Today's commencement ceremony went wonderfully. It's amazing to have this record number of graduates and family members in attendance," said CSU President Robert Mayes. "As the graduates walked across the stage to shake my hand, so many expressed how thankful they were that we were there for them, making a difference. It's very encouraging to talk and listen to them and share this day because this is what we do."
Also sharing the day was keynote speaker retired Gen. Dan K. McNeill, who holds a distinguished record of service with key assignments as the commanding general, 82nd Airborne Division, as well as the commanding general, XVIII Airborne Corps and Fort Bragg. He shared advice, anecdotes about military leaders and encouragement.
"You are now in a position to lead. You have every tool you need so go out there and make a difference," said McNeill.
Alabama State Rep. Steve McMillian, Orange Beach Mayor Tony Kennon and Baldwin County District 3 Commissioner Tucker Dorsey welcomed the grads, many from abroad and representing nearly every U.S. state, to Orange Beach.
CSU offers online certificate and associate, bachelor's and master's degree programs in various fields such as human resource management, occupational safety and health, fire administration, criminal justice and business administration.
To learn more, visit http://www.ColumbiaSouthern.edu.