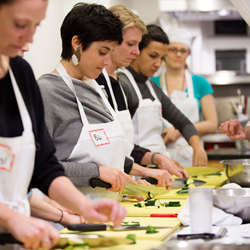 "I am a food writer and I wanted some type of base knowledge about nutrition to supplement my work. Other than four-year college programs, there were very few options." - Rebecca Ffrench
New York, NY (PRWEB) October 26, 2015
Natural Gourmet Institute (NGI), the leading health-supportive culinary school announces the launch of its Culinary Nutrition Certificate Program in Los Angeles. Previously, the 2-week course was offered exclusively at NGI's culinary facility in New York City.
The course, which has consistently sold out to capacity, explores the science of nutrition, nutrition in the marketplace, trends, specialized diets (e.g. gluten-free, vegan, Paleo), food allergies and intolerances, food synergies, menu planning, and more. Upon completion of the course, students will have learned how to incorporate the fundamentals of nutrition into their culinary perspectives.
"The course was the perfect blend of theory and application," says program graduate Nadja Pinnavaia. "It is challenging to devise a menu that meets certain nutritional requirements, such as developing a menu for a diabetic patient, and challenging to ensure the meal is also tasty, balanced, visually attractive, and seasonal. I now feel I have a solid foundation with which to explain why something may be healthy or not." Fellow graduate Rebecca Ffrench says, "I am a food writer and I wanted some type of base knowledge about nutrition to supplement my work. Other than four-year college programs, there were very few options."
The program will be taught by Kayleen St. John, MS, RD, and well as guest lecturers who are experts in their fields. The program will take place at Cook LA in Studio City February 15-26, 2016, Monday through Friday. Students will receive a certificate of completion in Culinary Nutrition.
Click here to learn more about the program.
###
About Natural Gourmet Institute
Founded in 1977 by Annemarie Colbin, Ph.D., Natural Gourmet Institute (NGI) is the leader in health-supportive culinary education. Natural Gourmet Institute's Chef's Training Program is a comprehensive and professional program that trains students to meet the growing demand for culinary professionals who are able to make the connection between food and health. NGI's interactive and dynamic Certificate Programs are designed to give students first-hand experience and expertise in the areas of Writing for Food Media, Sustainable Meat, Culinary Tours, Culinary Nutrition, Sustainable Farming, and Food Entrepreneurship. Natural Gourmet Institute also offers public intensives, hands-on instruction, demonstrations and lectures for the healthy cooking enthusiast. On Friday night, the school is transformed into an intimate dining room, where Chef's Training Program students and instructors prepare a three-course vegetarian Friday Night Dinner that is innovative, delicious and beautifully presented.