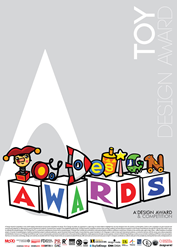 Como, Italy (PRWEB) October 24, 2015
Every year a lot of good designs are created all over the world and the International Toy Design Awards (ITDA) with a 70 person jury panel is ready to look into entries from manufacturing companies and designers for best toys, innovative games and outstanding recreational equipments.
Entries will be evaluated according to their aesthetics, innovative solutions and engineering together with child-friendly nature and high safety standards. Winners will be selected based on the exceptional qualities of the product which includes usage of non-toxic materials, sustainable manufacturing and recycling, child-save and age appropriate details as well as combination of creative, educational and innovative elements. In addition to toys, recreation equipment and games design, hobby products, gift items and kid furniture projects are welcome to be submitted under different categories.
All the laureates will receive a grand A' Design Prize that includes the design award certificate and trophy, Gala-night and Exhibition in Italy together with press release preparation and distribution. Moreover, all the International Toy Design Award winners will be linked with the most prestigious global design publications, highlighting designers' profiles and concepts in addition to being featured on the A' Design Award website.
Deadline for entries is February 28, 2016 with results announced on April 15, 2016 in the most recognised international design publications. More information on entry requirements are available at http://www.adesignaward.com
About the International Toy Design Awards
The A' Design Award & Competition aims to support creative and imaginative products by recognising and promoting them worldwide. The competition aims to create incentives for companies to design innovative children products that help development of "critical thinking skills" and "creative problem-solving abilities". The A' Design Award believes that investing in design of smart, creative and safe children products today will lead to a better, brighter future. The A' Toy Design Awards were therefore established to create an incentive for worldwide designers and manufacturers to come up with better toys that will not only be fun and entertaining but also educative, creative and safe. Learn more at http://www.whatisadesignaward.com