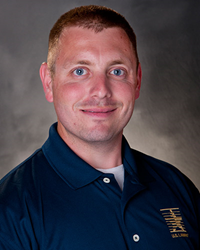 I'm grateful for the people around me who have supported, encouraged, and molded us..."
York, PA (PRWEB) October 26, 2015
The Central Penn Business Journal (CPBJ) selected a U.S. Lawns Franchisee in York, PA, Alexander Cistone, age 30, for its 2015 Forty Under 40 Class. Honorees have demonstrated impressive career achievements and unparalleled community involvement. They represent an outstanding group of up and coming community leaders in the business and nonprofit sectors.
Alex majored in ornamental horticulture and environmental design '07 (an academic program, which was offered before DelVal's current major, landscape design/build) with a concentration in landscape contracting and management. With his educational background, combined with a lifelong passion for the environment, Alex enjoys managing and planning improvements for all types of properties from single acre commercial sites to hundred acre or larger industrial complexes.
U.S. Lawns in York is active in the community and Alex gives freely of himself to community organizations such as The Hanover Exchange Club and to individuals, such as neighbors and local boy scouts pursuing Eagle Scout rank. For the last two years Alex has donated a landscape design to Pink Out Inc.'s yearly charity auction. Pink Out Inc. provides financial assistance to women in the Hanover area who are going through breast cancer treatment. Since 2012, Alex has been actively involved with The Spring Grove Chamber of Commerce by attending committee meetings and the majority of the events. He was elected Vice President at the end of 2014. Each year, The Exchange Club of Hanover hosts the Hanover Home and Garden Show. Alex always has a landscape display in the show. In 2013, he joined the service club and began volunteering with local club events. In 2014 he was asked to serve on the Board of Directors where he helps lead the club.
Read more: http://www.delval.edu/news/delval-alumnus-to-be-honored-in-forty-under-40-class#.VhwQs-wWJaR
"Alex Cistone is a great example of a community leader," Ken Hutcheson, President of U.S. Lawns remarked. "We encourage community support as part of our culture. 'Giving Back' is just part of who we are as a company."
"I'm honored to be part of the 2015 class," said Cistone. "Growing a company from the ground up has had its challenges and successes. I'm grateful for the people around me who have supported, encouraged, and molded us along the way. It definitely is a team effort."
About U.S. Lawns
Founded in 1986, U.S. Lawns services commercial landscape customers through a network of over 270 locally owned franchise locations nationwide, providing customized commercial landscape management and snow & ice management services to corporate campuses, retail, industrial parks, multi-family communities and other commercial customers. For more information, visit http://www.USLawns.com and http://www.USLawnsFranchise.com