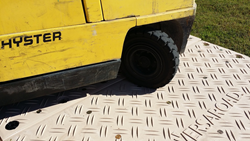 "VersaRoad is the next generation of industrial matting. There is no other matting system on the market that is as versatile" - Seth Gordon, CEO, Signature Systems Group
Flower Mound, Texas (PRWEB) October 25, 2015
Signature Systems Group announced VersaRoad™ the newest product offering to their line of event, industrial, and construction matting. VersaRoad is a portable matting system designed to provide superior ground protection and access for vehicles and equipment over virtually any ground condition. This new addition to Signature's premier line of robust matting systems weighs less and is easier to install than other composite mats and laminate wood systems.
VersaRoad mats are 10ft (3m) wide by 7ft (2.1m) long designed to accommodate worldwide vehicle traffic and handle most heavy-haul requirements. Constructed using virgin high density polyethylene (HDPE) copolymer, these durable high-quality mats are relatively lightweight (482lbs/219kg) allowing for easy handling and lower transportation costs than comparably-sized mats.
VersaRoad's dual-sided tread design offers superior traction for trucks and safety for personnel or pedestrians. Its proprietary cam-lock system is the strongest pin on the market, providing a seamless platform – no other assembly required other than a quick twist of the cam lock. VersaRoad's low profile (2.5in/63.5mm) eliminates trip hazards and allows for 90 mats to fit into a standard 40ft shipping container or 53ft truck.
"VersaRoad is the next generation of industrial matting. There is no other matting system on the market that is as versatile. We designed and engineered this product to work in a myriad of temporary applications: at special events, on construction sites, for site remediation, utility repairs, and more. Moreover, VersaRoad can be used in multiple configurations, easily creating work pads and roadways in a variety of shapes and sizes," says CEO Seth Gordon.
"We developed VersaRoad using feedback from our customers, who were looking for a matting solution that requires little assembly, is non-conductive and environmentally friendly. Specifically, our customers were asking for a solution with quicker installation and a design to stave off mud, so we added an overlapping flange around the entire perimeter to address both of these concerns," continues Mr. Gordon.
VersaRoad is manufactured in the U.S. and will be distributed from their network of distribution centers in the U.S. and in the U.K.
Signature Systems Group LLC is headquartered in Flower Mound, Texas and has provided innovative portable roadway and rig matting solutions for over 15 years. Their products and solutions service industries such as: special event, oil and gas, construction, power, transmission and distribution, military, and stadium. Signature Systems Group operates worldwide directly and through a network of dealers, distributors and agents.
For more information, visit signaturesystemsgroup.com.
Press inquiries, contact:
Deb Wong
Vice President of Marketing
Signature Systems Group, LLC
+1 212-518-1156
dwong(at)signaturesystemsgroup.com