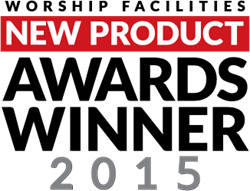 For the last 8 years WFX has recognized NetworkThermostat as a manufacturer of award winning energy management solutions.
Grapevine, Texas (PRWEB) (PRWEB) November 17, 2015
NetworkThermostat, a leading communications-based thermostat manufacturer since 1995, is pleased to receive the WFX 2015 New Products Award for two new IP thermostats, the UP32HE-IP and the UP32HE-WIFI. Each device includes calendar- based event scheduling and an integrated humidity sensor provides monitoring and control of humidification or dehumidification locally or remotely over the Internet. The intuitive interface and powerful web engine puts the right amount of control at the right location. The thermostats' integrated web server automatically detects the device type (PC, Mac, tablet or mobile phone), makes the required connections and delivers either full webpages (PC, Mac or iPad) or mobile pages (iPhone or Android phone). The UP32H platforms include the exclusive Net/X Advanced Remote Sensor Bus for attaching up to eleven (11) remote sensors for monitoring of up to 6 different sensor types.
These Internet thermostats allow point and click control from almost any browser on any device from any Iinternet access point. An extended hold (vacation) is quickly created from an internet connection or the thermostat front panel by simply entering the day and time to return to normal scheduling. NetworkThermostat™'s exclusive and powerful Event Scheduling engine allows up to forty (40) calendar-based events for multiple holidays and vacations, and up to forty (40) special events for extended hours and special one-time events. Both versions feature automatic changeover 3-Heat / 2-Cool thermostats with programmability from just a single schedule to seven days per week with up to four events per day.
Full Ethernet 10/100Mbps (UP32HE-IP) or Wi-Fi 802.11b/g (UP32HE-WIFI) connections simplify PCI compliance for the commercial world. Control Monitor and control temperature thermostats locallyfrom a LAN or from the Internet. Controlling multiple UP32HE thermostats is as easy as controlling one. Multiple control options include the browser access to all thermostats, free Internet-based Net/X™ Remote Device login tool, free Net/X™ Device Explorer tool for on-site management, and the free Enterprise-Class Net/X-IP Command Center software for drag-and-drop scheduling and control of multiple thermostats, and the powerful NetX-Cloud cloud server environment. The thermostat platform is so powerful that all of the options above can actually be deployed simultaneously if needed.
Many facilities have rich, dynamic schedules (schools, churches, office buildings, manufacturing centers, etc.). NetworkThermostat addresses this need with calendar based scheduling for up to 40 calendar events and/or 40 special events. Use calendar events for extended vacations such as Easter, Christmas, Memorial Day, Labor Day and Thanksgiving. Use special events for single day events that may last several hours such as weddings, sporting events, and conferences. Also featured is a powerful "Hold Until Unoccupied" capability that holds an override set point until the next unoccupied schedule executes.
To meet customer requests for flexible humidification /dehumidification control, NetworkThermostat has produced the industry's first and only integrated or external humidity sensor monitoring and humidification/dehumidification control. Remote humidity sensing provides applications where humidity control is required the flexibility to replace a thermostat and add an NT-HUM external humidity sensor where humidity monitoring and control is actually needed (i.e. IT room, wine cellar, surgery rooms, storage rentals, clean rooms, etc.). In addition, the versatile humidity relay can be used to control fresh air dampers (with enthalpy, to take into account outdoor humidity as well as outdoor temperature) or as a 24Vac ON/OFF switch.
The UP32HE supports auxiliary inputs and sensors. Picture a miniature energy management system in a thermostat. Each UP32HE supports occupancy sensing, two (2) digital inputs for condensate switch, dirty filter or other fault condition, and an advanced remote sensor bus that can monitor supply/return air, refrigerators/freezers, water temperature, etc. . The 3-wire remote sensor bus supports eleven (11) sensors with up to nineteen (19) alarms.
Both thermostat platforms support up to 4 email and text message destinations for sending reminders and condition alerts to both customer and service personnel. Simply enter the desired alert email addresses and phone numbers in the embedded secure email client. Critical Alerts can be repeated until the alert condition is corrected and reset. There are nineteen (19) alert conditions. These alerts include humidity levels, filter change reminders and a powerful Inefficient Equipment Run alert.
NetworkThermostat incorporates an online weather monitoring platform in the thermostat that provides the outside temperature (without a sensor), full current weather conditions and seven day forecast from the browser. Use the online weather data to help regulate heat pump balance points and/or to control fresh air dampers without the need for additional outdoor sensors.
NetworkThermostat's open API allows software developers and hardware integrators the ability to quickly and seamlessly integrate the thermostat into other systems. Multiple iPhone/iPad and Android based applications from third parties are also released.
Availability
These products are available through an ever-growing network of online retailers, HVAC distributors and contractors. Detailed information on this product, and NetworkThermostat's industry leading network solutions can be found on the web at: http://www.networkthermostat.com , http://www.facebook.com/networkthermostat , email: sales(at)networkthermostat(dot)com, telephone: 866-563-0711