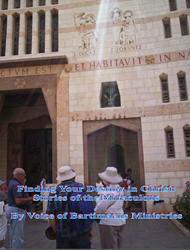 If you wait until you think you are perfect it will be too late. No one needs the gifts God has given you when you are in heaven.
Harlingen, Texas (PRWEB) November 01, 2015
Voice of Bartimaeus Ministries is releasing its first book, Finding Your Destiny in Christ: Stories of the Miraculous.
This book is a compilation of compelling true stories of healing and deliverance, about finding destiny and purpose in God's plan while being led to unexpected places and circumstances. This author's experiences range from praying for someone's return of sight as doubting hospital personnel looked on, to confronting a sculptor with his own "spirit guide" causing paranormal problems for family members that had become Christians.
The author explores lessons to be learned when walking into circumstances which are part of a unique destiny while in the process of praying for the healing and deliverance of others. The lessons learned parallel experiences of New Testament believers and are still taking place today. For the author, these range from happenings inside churches in the United States and Brazil to praying over a woman in an asylum. They illustrate how destiny may not be what it was thought to be and how easy it is to miss God's purpose.
The author, David Boga, was formally ordained in 2015 and has prayed for the sick and oppressed of various denominations since 1985. His experiences have taught him everyone has a purpose and these purposes are intertwined to form a beautiful and loving tapestry only God sees.
The glory of God is evidenced by His use of imperfect people. If people wait until they think they are perfect it will be too late. No one needs the gifts God has given when they are in heaven.
Voice of Bartimaeus was formed in 2015 to equip the body of Christ. The only thing people can give God is their love and obedience, everything else He can get for Himself.
VoiceofBartimaeusministries.com
Voice of Bartimaeus Ministries
P.O. Box 530066
Harlingen, Texas 78535