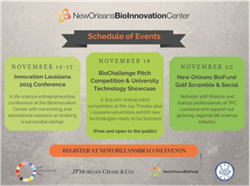 Our goal is to give Louisianans insights into the groundbreaking research being done across our state both within our universities and in the startups we support.
NEW ORLEANS (PRWEB) October 26, 2015
New Orleans BioInnovation Center, a science and technology business innovation incubator, unveils a full week of events in celebration of Global Entrepreneurship Week, including its marquee BioChallenge Pitch Competition. Additional events include the third annual Innovation Louisiana Conference, a golf scramble tournament, several networking opportunities and a university technology showcase, which will feature nine universities and research institutions from across the Silicon Bayou.
"This is our fourth year hosting the BioChallenge Pitch Competition, but this time we are moving the event to a larger venue to hold the anticipated crowd," said Aaron Miscenich, president of the BioInnovation Center. "Our goal is to give Louisianans insights into the groundbreaking research being done across our state both within our universities and in the startups we support. Everything from next-generation cancer treatments to better water management technologies are being developed right here in Louisiana."
A day of free events will begin on November 18 at 9:00 a.m. inside the Joy Theater, starting with a panel discussion and poster session where eight Louisiana university research institutions along with NASA Stennis Space Center will exhibit license-ready technologies in healthcare, energy, nanotechnology and other industries. Then starting promptly at 11:30 a.m., the BioChallenge Pitch Competition will feature four Louisiana-based startups who will present to a panel of national investors and judges including Thomas Luby from Johnson & Johnson Innovation and Thomas Kluck from global medical device supplier, Becton Dickinson.
After advancing through two rounds of judging by independent panels, the finalists selected to compete for a $25,000 cash prize are:
BioAesthetics is improving reconstruction options for breast cancer patients after they undergo mastectomies. As an alternative, BioAesthetics has developed a graft that would allow the patient's body to regenerate a permanent nipple-areolar complex.
Flux Diagnostics aims to revolutionize rapid diagnosis of various diseases without the need for extensive training or complex equipment. They develop fast, low cost in-vitro diagnostic tests with a unique detection system and multiplex technology, initially targeting a dangerous mosquito-borne virus, dengue fever.
InnoGenomics Technologies is dedicated to the development of innovative genetic testing solutions that solve crimes and save lives. Their patented technology enables forensic scientists to unlock answers from the most challenging DNA evidence and also to detect and monitor cancer through a minimally invasive blood test.
Zenopharm, a Xavier University spinout, is developing a drug candidate to treat and prevent the recurrence of breast cancer. Compared to current treatments, the drug will reduce adverse side effects, increase patient treatment adherence and reduce the risk of breast cancer recurrence.
"At Johnson & Johnson Innovation, we are always on the lookout for differentiated healthcare approaches that will create real value for the health and well-being of people around the world," said Thomas Luby, senior director of new ventures at Johnson & Johnson Innovation. "Many of these ideas are emerging in Louisiana, and I'm honored to participate in the Center's events this week that support the state's most promising healthcare innovations."
For more information and to register for any of these events between November 16-20, click here. Also, be sure to follow the Center on Twitter @NewOrleansBio for live updates. Major support was provided by the JPMorgan Chase Foundation and the U.S. Economic Development Administration. Additional sponsors include Becton Dickinson and Baker Donelson.
About the New Orleans BioInnovation Center
Opened in 2011, the New Orleans BioInnovation Center is a not-for-profit business incubator that fosters entrepreneurship and supports life sciences technology innovation across Louisiana. The Center offers office and lab space, educational events, business consulting, and the BioFund capital program to emerging startups as they work to bring new technologies to the market. From cancer treatment to water management, these include diagnostic tools, drugs, medical devices, health IT platforms, and clean technologies with great promise for addressing a wide range of medical and environmental problems. The Center's programs have supported more than 100 new Louisiana companies that have created over 250 jobs. Learn more at http://www.neworleansbio.com and follow us on Twitter @NewOrleansBio.