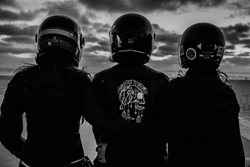 Doing all my own work and maintenance makes me feel attached to my bike. The best though is getting to customize my own motorcycle.
Joshua Tree, CA (PRWEB) October 24, 2015
A New Heritage Built by Women Riding Into a New Sunset
This weekend, women motorcyclists are gathering from around the country to celebrate their binding passion for motorcycles with a campout in Joshua Tree, CA. They call it: Babes Ride Out.
Babes Ride Out is an annual women-only overnight motorcycle adventure and campout. Babes Ride Out 2015 is the third iteration of this gathering, and sold out well in advance of the ride with over 1,200 ticket sales. Co-founders Ashmore Ellis and Anya Violet wanted to create an environment where women can come together to share their cross-country journeys, triumphs, close calls, and disasters on the bike.
The event is about bringing together a diverse group of people united by a single passion who have been historically excluded from the greater motorcycle community. The attendees at Babes Ride Out proudly come from all walks of life, and have included photographers, welders, jewelry makers, painters, and more in the past. Historically, the motorcycles present at the event are as diverse as the riders themselves.
Babes Ride Out seeks to establish a new heritage in the motorcycle community through creating a space for women motorcyclists to not only say "we can do it," but by demonstrating that they can do it even better. The riders at Babes Ride Out break all pre-conceived stereotypes of women on motorcycles, and through putting on a highly successful and groundbreaking event show that motorcycle culture is evolving, and that they have a place in shaping its future.
On the note of new heritage, one of the defining aspects of the event is that the large majority of bikes being ridden are older bikes. These older bikes require a significant amount of maintenance and upkeep to ensure they run. The majority of attendees of Babes Ride Out, as do many motorcyclists, assert they do the lion's share of work on their own bikes.
There has been a growing trend among motorcyclists to return to these older bikes and to reintroduce them to the road. The history behind these bikes is rich and storied, and emanate a strong pull on many community members. One such rider pioneering this new heritage is Corinne Lan Franco, ambassador for Stance Socks and avid Triumph Modern Classic enthusiast. Read Franco's coverage of last year's Babes Ride Out here.
In stride, many motorcycle manufacturers are introducing retro style motorcycles that are effectively the same machines ridden in the 60s but include technologically updated features. These include the popular Triumph Modern Classic models, the Bonneville, Thruxton, and Scrambler. These bikes have become so popular not only because of their accessibility and heritage, but because of how extensively they can be customized.
Brands that are spearheading this movement and helping bring the community together by offering extensive customization options for these retro style motorcycles include British Customs, a lifestyle brand and designer of aftermarket motorcycle parts. The parts many of these riders seek out not only have vintage looks, but are made with the same appreciation for craftsmanship and quality materials. To fuel these passions and to help raise awareness for charity, a customized CROIG X BC Edition 2015 Triumph Bonneville is being given away — donate and register to win here.
"Doing all my own work and maintenance makes me feel attached to my bike," stated Marie Kifa, a rider at the event known on Instagram as @marie_vill. "The best though is getting to customize my own motorcycle. That's what really makes you feel close to it." Kifa, from Washington D.C., is attending the event with fellow friends and riders Liz Horton (@deathroddixie) and Anjuli "Kiki" Azim (@ainjul), who have come from Colorado and Oregon respectively to reunite and celebrate their love for motorcycles. They are each doing event coverage on their Instagram accounts.
Collectively, these customizable retro style bikes and their new riders have purposefully posited a new heritage from which the motorcycle community's future will take its shape.
The rules of the campout are "no [atti]tudes, no dudes."
Follow the hashtag #babesrideout3 and visit the official Babes Ride Out website for more.
About Babes Ride Out:
Babes Ride Out is an annual all female overnight motorcycle adventure and campout to one of California's most beautiful destinations that takes place October.
About British Customs:
British Customs is a Southern California-based lifestyle brand and designer of aftermarket motorcycle parts. They are known for making the highest quality factory-spec bolt-on parts that only require common tools and minimal technical knowledge to install. With any of their parts upgrades, the average rider can completely customize his or her motorcycle in a weekend.