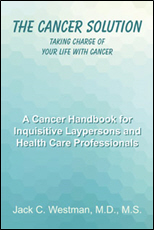 Empowering Persons with Cancer
Madison, WI (PRWEB) October 28, 2015
Dr. Jack Westman, author of The Cancer Solution: Taking Charge of Your Life with Cancer, opened the 5th World Congress on Cancer Therapy with his presentation A Review of Immunotherapy and Nutritional Therapies. Dr. Westman pointed out that immunotherapies strengthen the body's ability to identify and destroy misbehaving cells that are heading in the direction of becoming cancer cells through the process of neoplasia.
The body's immune system has an automatic generalized response that acts as the cleansing system for clearing out cells that are clearly misbehaving and an adaptive response that develops memory through which similar aberrant cells are cleared out, as is the case with immunization for infectious diseases.
The consensus about immunotherapy is that to achieve maximum effect it should be used early in the neoplastic process before the immune system is adversely affected by radiation and chemotherapy and before the cancer has become "tolerated" by the immune system. A combination of immunotherapies most closely resembles the responses of the natural immune system.
Dr. Westman called attention to a new way to look at cancer…by tracing its deep roots to the dawn of living cells more than a billion years ago… proposed by Paul Davies and Charles Lineweaver in their 2013 book Complexity and the Arrow of Time may well transform cancer research and treatment. If their theory is correct, it promises to link the origin of cancer to the origin of life and to the development of human embryos. They predict that saturating cancer cells with oxygen and depriving them of glucose will slow them down and even kill them, echoing Otto Warburg's prediction in 1924.
Dr. Westman described a Complementary Cancer Treatment Protocol with ingredients that have been shown to enhance the effectiveness of surgery, radiation and chemotherapy in the treatment of cancer. The protocol consists of a ketogenic diet; CELLFOOD that increases intracellular oxygen; curcumin (Curamed); Immpower (AHCC from hybrid mushrooms); milk thistle (silymarin); aspirin; Vitamin D3; stress relieving meditation; exercise and a support system—media and/or interpersonal.
The fact that traditional chemotherapy and radiation have harmful side-effects creates an incentive to try nutritional therapy in the early stages of cancer before or concomitantly with employing them.
Strikingly, immunotherapy and nutritional therapies for cancer have not been subjected to rigorous clinical studies in the way that chemotherapies have. As of September 1, 2015, National Institutes of Health Clinical Trials for cancer numbered as follows: chemotherapy-14,822; immunotherapy -1,190; nutritional therapy-335; curcumin therapy-43 and ketogenic diet-16.