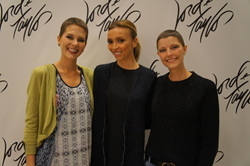 'We've taken Breast Cancer Awareness Month by storm with our mission to grant 31 wishes in 31 days with our FABtober campaign. Now that we're nearing the month's end, we've seen how meaningful this has been to these women.' - Giuliana Rancic
Chicago, IL (PRWEB) October 26, 2015
On October 24, Giuliana Rancic met with a group of young women battling breast cancer at an intimate event hosted by the Lord & Taylor at Oakbrook Center in Oak Brook, IL. The celebratory event is part of FABtober, a month-long campaign launched by The Pink Agenda and Rancic's FAB-U-WISH program and sponsored by Lord & Taylor and Estée Lauder to help young women fighting breast cancer feel beautiful while also raising awareness for breast cancer research.
At the October 24th event, Chicago-area FABtober winners enjoyed mingling with fellow breast cancer warriors as well as spending time with Rancic. At the Oakbrook event and throughout Breast Cancer Awareness Month, FAB-U-WISH and The Pink Agenda announced a FABtober recipient each day in October, granting women battling breast cancer with an in-store Pink Agenda Party with friends. Women were treated to a glamorous Estée Lauder makeover experience at their local Lord & Taylor, a gift basket of Estée Lauder products and gift cards for personalized beauty products.
"We've taken Breast Cancer Awareness Month by storm with our mission to grant 31 wishes in 31 days with our FABtober campaign. Now that we're nearing the month's end, we've seen how meaningful this has been to these women. Sometimes a little pick me up – like a makeover with friends – can lift the spirits of women currently fighting this disease. We hope this raises awareness to help fulfill the ultimate wish of finding a cure," Rancic said.
FAB-U-WISH has announced the lucky winners via The Pink Agenda's Twitter, Instagram and Facebook accounts. FABtober stories can be viewed via bit.ly/fabtoberphotos.
Funds raised through the FABtober campaign are helping grant wishes year-round as well as supporting the lifesaving research needed to fulfill the ultimate wish - finding a cure for breast cancer. Donations can be made to bit.ly/givefabtober. Visit http://www.thepinkagenda.org to learn more.
About The Pink Agenda
The Pink Agenda believes that engaging today's generation can go a long way toward finding tomorrow's cure to breast cancer. That's why The Pink Agenda, together with its partner the Breast Cancer Research Foundation, is working with the next generation of leaders to find and fund programs that are improving the lives of those suffering from breast cancer and conducting the groundbreaking research necessary to improve their odds. The Pink Agenda, a non-profit 501(c)(3) organization that was launched in 2007, has contributed more than $1 million to breast cancer research and care. In 2014, The Pink Agenda partnered with breast cancer survivor and television personality Giuliana Rancic and her initiative FAB-U-WISH. Together, Giuliana Rancic's FAB-U-WISH and The Pink Agenda grant the most fabulous wishes to young women undergoing treatment for this devastating disease.
About Lord & Taylor
Founded in 1826, Lord & Taylor is the oldest department store in the United States and one of the country's premier retailers. It has built its reputation on offering high-quality fashion apparel and accessories, exciting store environments, and seamless service. Lord & Taylor operates 50 full-line locations primarily in the northeastern and mid-Atlantic U.S., four outlet locations, and lordandtaylor.com. It is part of the Hudson's Bay Company brand portfolio.