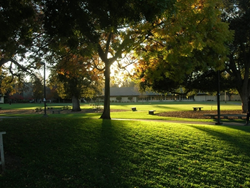 Atherton, CA (PRWEB) October 27, 2015
New research from Menlo College's political scientist Dr. Melissa Michelson, joined by her colleague Dr. Deborah Brown McCabe, debunk one of the most traditional tools of political persuasion as ineffective: the "Door-in-the-Face" strategy.
"A simple reminder to vote works best," says Michelson, "which may surprise many political campaigns." Michelson is a Professor of Political Science and McCabe is a Professor of Marketing.
In their research, to be published in the Journal of Political Marketing later this year, Michelson and McCabe conduct two methods to investigate how the "Door-in-the-Face" (DITF) technique is unproductive as a tactic to increase voter turnout.
The strategies of DITF involve two steps—an "extreme" request that sets up a psychological situation whereby the recipient may agree to a second, milder request. Put in the political context of the research, usually the first request would ease participants into agreeing to the second, less arduous task such as simply voting instead of monitoring a polling center.
This two-step system of DITF was widely used in the 2008 presidential election, when President Obama supporters who lived in California were invited to call voters in swing states. Those declining the request to cold call swing voters were theoretically more likely to vote given the technique's model.
Michelson's and McCabe's method of testing DITF involved a pilot study in 2010, asking college student volunteers to call and remind 116 registered student voters at Menlo College to go to the polls in the mid-term election. The second method was conducted the year after with about 1,000 of the 3.400 registered voters in San Mateo County, CA. About half the potential voters received a standard reminder to vote, and the others received the two-step DITF message that included an "extreme" request to help monitor a polling place. As expected, all subjects turned down that request.
According to these findings, "DITF should have increased turnout, but it did not." Dr. Michelson adds, "The theory may still be valid, but a softer DITF message—a less onerous request or perhaps one more clearly linked to civic duty—may be needed to effectively move folks to the polls."
In a newer get-out-the-vote experiment conducted in Palo Alto, CA in 2013, Michelson and McCabe tested whether or not people are more likely to vote when reminded that a political issue on the ballot concerns their neighborhood. This was done through a series of messages to voters that emphasized the potential neighborhood impact of a proposed housing development project. To their surprise, this neighborhood message in Palo Alto had almost no effect on those participants' willingness to vote, whereas the neighbor message was effective for one set of voters—those who lived in the city but far from the proposed development.
Dr. Michelson adds that "[this] research shows a significant variation in how individuals react to encouragements to participate. There is no single most powerful message for voters. You have to tailor the message to the interests and identities of the target community." With the 2016 presidential elections in full swing, strategists should re-examine their use of traditional political persuasion techniques because, like DITF, they may have no effect on voter turnout. With less than half of the country participating in elections, "getting out the vote is not just an academic or minor issue. Our democracy depends on it."
Media Contact: Robert Wynne
rob(at)wynnepr(dot)com
310.540.7204
####
About Menlo College
Menlo College was established in 1927 in Atherton, California as a small, private school that focuses on business education with a strong liberal arts emphasis. Located in the heart of Silicon Valley midway between San Francisco and San Jose, Menlo has been named among the "Best Colleges in the West" by The Princeton Review seven years running and a U.S. News "Best Regional College" for the last five years.http://www.menlo.edu