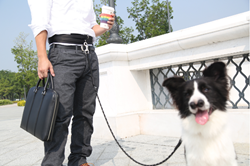 The all-function belt & leash system provides you multiple functions, freedom for both of your hands, and adjustable leash to meet your needs.
Tainan, Taiwan R.O.C. (PRWEB) October 28, 2015
Opets is a new pets related products to provide customers the best experience when walking dogs. Its killer feature is that Opets let dogs surround with customer's body without any obstacles.
Opets is built from the ground up to:
Enhance customer's walking dogs experience.
Walk with multiple dogs without any hassle.
Release customers' hands but with intense security.
Opets includes several cool features to meet most of dog lovers' needs. Here is a closer look:
Belt feature
360 degrees rotation for middle webbing stripes of the belt: When fixing Opets leashes on the middle webbing stripes of the belts, it helps customers' pets to surround customers' body without difficulties and prevent from tangling leashes.
3 segment leash-fixing areas on top and bottom stripes: Separated areas of Opets helps customers to ensure dogs to walk in arrangement especially when walking with more than 2 dogs.
Hands-release mechanism: As long as customers hook leashes on the belt, customers can release both hand to hold bag and talk with friends by cellphone without hesitation since customer no longer need to worry that leash will get loose anytime.
Inner pocket for accessories: Opets belt is equipped with one zipped pocket and one open pocket. Customers can always put something like cellphone and wallet in a zipped pocket to provide full protection and put the keys and something that would be used more often in an open pocket.
Multiple leashes fixing compatibility: Opets provides totally 9 d-rings for customers to hook leashes. That means customers can walk with up to a total 9 dogs at the same time.
Leash feature
High strength leash: Our R&D team chose from mountain climbing standard rope to ensure customer's leashes will be as strong as strong cables.
High elasticity robe: Due to the favor of high elastic mountain climbing rope, customers will be satisfied with its elasticity and protect from getting hurt when dogs burst immediately.
Pets control functions: Customers can decide where to hook to the belt with double hook mechanism on the leashes. Customers can prevent from any accident because of dog's actions especially when customers are waiting for the red light .
Reflective strips incorporation: When customers want to walk with dog in the night time or darker places. Reflective leash stripes could help cars and other people to get noticed customers easily.
Wasting bag portability: Every dog owners must have annoyed experience that is hard to find the garbage can when holding dogs with wasting bag. Opets leash is with small elastic band to help to hold wasting bags temporarily before finding out the garbage can.
Training dog leash mechanism: Opets leash is not just walking dogs leashes. It could also be best helper when training dogs with hook leashes on dog necks during training behavior of dogs.
TRONNOVATE will soon launch this project in kickstarter campaign. For more information please check official website for more details.