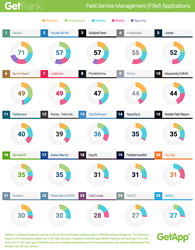 Field Service Management software enables service providers to better manage their operations and deliver a high level of service.
(PRWEB) October 26, 2015
Business app discovery site GetApp has released its Q3 GetRank of the top Field Service Management applications, with GeopOp, HouseCall Pro, and GoSpotCheck topping the ranking. See our short video about it here.
GetRank is an unique and independent cloud software ranking system that scores apps based on a range of data points, obtained from GetApp and third-party sources. Information used to calculate an app's score includes: user reviews, supported software integrations, mobile capabilities, security, and social media presence.
The aim of GetRank is to provide valuable information to businesses that are in the early stages of choosing a software solution for their business, in this case for Field Service Management (FSM).
Field Service Management software enables service providers to better manage their operations, allowing them to schedule and track jobs that take place outside of an office. By pairing the right technicians with the right clients, planning routes, calculating travel times, and more, field service software helps companies ensure they deliver a high level of service. From a customer perspective, FSM software offers them the ability to log in to gain access to live job statuses.
According to GetRank's accompanying research report, Operating in the Cloud, the Internet of Things (IoT) and wearable tech are opening new opportunities for remote Field Service Management.
"IoT will have a major impact on FSM by providing personal identification, monitoring, and data exchange capabilities that are either not possible or not practical (or unenforceable) with current technology. This may include scenarios where field service personnel are no longer required to physically attend certain premises or manually fix particular faults because such issues will be addressed remotely," said Yuri Margoulis, director at workforce management company, Workforce Delta, one of five expert contributors to the report.
The Q3 GetRank for Field Service Management software is available now, as is the accompanying research report Operating in the Cloud: Key Trends for 2015, which is free to download.
More about GetApp: GetApp, a Gartner company, is the leading premium business app discovery platform on the web. Headquartered in Barcelona (Spain), GetApp serves as a platform for user-generated and editorial reviews of software and apps for businesses.