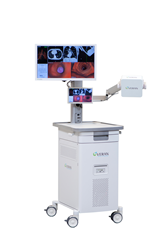 (PRWEB) October 26, 2015
(Booth #1901) – Veran Medical Technologies Inc., a privately-held medical device company and leader in image-guided endobronchial and percutaneous technology for diagnosis of lung cancer and therapy delivery, will be featuring new software for their SPiN Thoracic Navigation System to lung specialists around the world. The new software will be displayed on Veran's planning station and navigation system at CHEST 2015, the annual meeting of the American College of Chest Physicians, on October 24-28 in Montreal, Canada.
"Veran's SPiN Thoracic Navigation System and SPiNPerc are transforming the physician's ability to accurately access and diagnose hard-to-reach solitary pulmonary nodules (SPN's) and to provide cost-effective care for the 2.7 million SPN's found annually in the U.S.," said Veran CEO Jason Pesterfield. "With the launch of our new software, we are able to provide lung specialists more ways to target SPN's and help our customers save more lives through the early diagnosis of lung cancer."
The SPiN Thoracic Navigation System and SPiNPerc are being used by many of the top cancer centers in the U.S., and they enable physicians to navigate easily to suspicious nodules through either an endobronchial or percutaneous approach using a detailed, patient-specific airway map derived from a low dose CT scan. With proprietary Always-On Tip Tracked® instrumentation and patient tracking of respiration, Veran enables accurate and fast diagnosis in a single procedure versus what has traditionally taken several procedures to get a lung cancer diagnosis.
About Veran Medical Technologies
Veran Medical Technologies is a privately-held medical device company, headquartered in St. Louis, MO. The company has developed and commercialized a unique SPiN Thoracic Navigation System, which includes a hybrid lung cancer diagnostic procedure called SPiNPerc. SPiNPerc combines two main platforms; navigational bronchoscopy and percutaneous navigation, to give physicians more tools in a single procedure to diagnose early stage lung cancer. For more information, please visit http://www.veranmedical.com
Media Contact:
TJ Meyer
Veran Medical Technologies
314-659-8500
tj(dot)meyer(at)veranmedical(dot)com