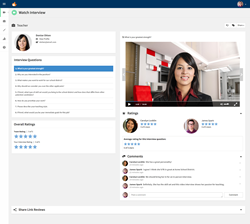 "We're incredibly pleased to see that video interviews continue to make such a great impact on this conference and continues to benefit our staffing and recruiting customers who first learned about video interviewing at Staffing World years prior."
Chicago, Illinois (PRWEB) October 26, 2015
Spark Hire (http://www.sparkhire.com), the leading provider of video interviewing solutions to the staffing industry, will be exhibiting at Staffing World in Nashville, Oct. 27-29th at the Gaylord Opryland Resort & Convention Center.
"We're happy to be exhibiting at Staffing World for the third year in a row," says Josh Tolan, CEO of Spark Hire. "We're incredibly pleased to see that video interviews continue to make such a great impact on this conference and continues to benefit our staffing and recruiting customers who first learned about video interviewing at Staffing World years prior."
Hundreds of staffing and recruiting firms use Spark Hire's video interviewing platform to efficiently connect with their candidates and improve how these candidates are marketed to their clients. The result is a distinct competitive advantage, more placements, and increased revenue.
At Staffing World, Spark Hire will be showcasing how staffing and recruiting firms use features on the platform such as:
One-Way Video Interview: Present only polished candidates to your clients. Use Spark Hire's one-way interview to help candidates put their best foot forward. Candidates will use a webcam or mobile device to answer interview questions on their own time. Clients can then review and share the interviews with colleagues to come to better hiring decisions.
Live Video Interview: Live interviews let you connect with long-distance candidates, without the traveling costs. The professionally branded interviews are recorded, and since the recorded interviews are stored in the cloud, refer back to the video interviews at any time and send them over to clients for review.
Candidate Showcase: Share multiple candidates with your clients within one simple email. Clients then watch the video interviews and are able to comment and rate them on a 5-star rating system.
"Enhancing collaboration with clients helps recruiters make more placements, a lot quicker," says Josh Tolan. "Today's staffing industry is hyper-competitive, so adding more value to your clients with video interviews will help recruiters worldwide beat their competition."
Meet the Spark Hire team at booth 820 to get a closer look at how video interviewing can transform your recruitment strategy.
About Spark Hire:
Spark Hire is the fastest growing video interviewing platform in the world and leader in video interviews for staffing firms. Offering a completely branded one-way and recorded live video interview platform, Spark Hire enables staffing and recruiting firms to connect faster with amazing talent, edge out competitors not utilizing the technology, and improve overall client collaboration. No contracts, no setup fees. Unlimited video interviews. For more information, visit sparkhire.com.
About Staffing World:
Brought to you by the American Staffing Association, Staffing World is the largest, most comprehensive convention and expo in the staffing, recruiting, and workforce solutions industry. Each year, thousands of industry executives, professionals, leaders, and innovators convene for this must-attend event. For more information, please visit americanstaffing.net.