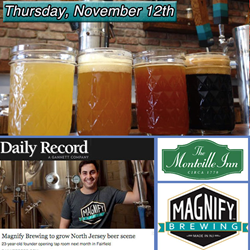 Montville, NJ (PRWEB) October 29, 2015
The Montville Inn announced a complimentary Beer Tasting event on Thursday, November 12th from 6 pm - 8 pm. The tasting event will feature bar snacks paired with beers from Magnify Brewing Co. of Fairfield, NJ. Founder and president Eric Ruta will be on hand to sample and discuss the brews.
The Beer Tasting will take place in the Montville Inn's Tavern. There will be five beers on tap to try, including Magnify's year-round brews: Vine Shine IPA, Search Saison, Low Visibility Pale Ale, and their unique and complex Black Wheat Beer.
The seasonal Pollinator IPA will also be available, which will remain on tap at the Montville Inn throughout November and December. This experimental, yet-to-be-released beer is made in small batches with local honey from Jean's Honey in Flemington, NJ.
Magnify Brewing was established earlier this year by 23-year-old Eric Ruta of Ridgewood, NJ. It is a ten-barrel brew house right off Rt. 46 in Fairfield. The rapidly growing brewery has already expanded from two year-round brews to five year-round brews in the past 6 months, with a strong emphasis on experimental beers and high quality, local ingredients. The goal of Magnify Brewing is to put NJ on the map as part of the growing popularity of local beers.
"That's where the name came from, Magnify," Ruta told the Daily Record, "There's only a handful of breweries up here now, and I want to magnify attention to the area. This is where I'm from, and I want to create a great beer scene. I want to build something from the ground up and I won't forget where I came from."
The Montville Inn introduced its strong emphasis on craft beer back in March of this year, with the adding of 8 taps to their bar, for a total of 15 craft beers on draught. In addition to their recent partnership with Magnify Brewing, their craft beer selection includes popular breweries such as Dogfishhead, Allagash, Founder's, Sculpin, and popular local brewery Riverhorse, based in Ewing, NJ.
Says owner TJ Nelligan, "We wanted The Montville Inn to offer something both unique and accessible. Our knowledgeable bar staff has put together a beer selection that exposes craft beer novices to something new and different while also offering a few unique beers for the more experienced imbiber. We get a lot of adventurous beer drinkers who come in and ask how we put together this amazing selection."
Although complimentary bar snacks will be provided at this event, guests are encouraged to stay for dinner and enjoy the some of the award winning menu. Additional information about this amazing event, including tasting notes on the beers, please visit the Events section of themontvilleinn.com.
Reservations are not required but those who plan to stay for dinner afterward are encouraged to reserve a table.
For more information about Magnify Brewing and the opportunity to tour the local brewery, please visit magnifybrewing.com. For questions about the event, please call The Montville Inn at 973-541-1234, or email Jennifer(at)TheMontvilleInn(dot)com.
About the Montville Inn
The Montville Inn is a neighborhood restaurant where guests can enjoy everything from relaxed, family meals, to date nights or even business meetings. The unique comfort food and fresh, creative specials offer something for everyone. Complete with a wrap-around porch, gorgeous copper bar, two private dining rooms, and a cozy main dining area, whose decor features historic photos of Montville Township and the surrounding area. It is the pride of owner TJ Nelligan, a long-time resident of Montville, whose family has been here for generations. Nelligan was inducted into the Montville High School Hall of Fame in 2004 and was named Montville Township Citizen of the Year in 2004.