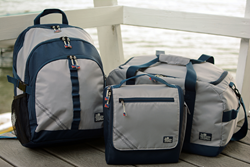 Victor, NY (PRWEB) October 27, 2015
SailorBags has announced one of its most ambitious new product launches with the introduction of Silver Spinnaker, a bag and accessory collection that is a dramatic departure from the brand's classic nautical look.
Silver Spinnaker is a family of sporty, ultra-lightweight travel bags with a more technical aesthetic than the casual, sailcloth lifestyle designs that SailorBags has been known for. Like the spinnaker sails from which the collection gets its name, the new bags are made of ripstop fabric, selected for its light weight and extreme durability. They're executed in a silver-gray color, with navy blue webbing and trim, making them further stand out from the trademark white, red and blue hues of the traditional SailorBags line.
New gift ideas from the Silver Spinnaker collection include:

Other items in the collection include: an insulated Cooler Tote and Lunch Box. All feature 2-ply, water- and stain-repellant ripstop construction. Other features include reinforced load bearing points, genuine YKK zippers, non-slip shoulder pads, interior accessory organizer pockets and more.
Silver Spinnaker bags are available for order now, at suggested retail prices ranging from $30 to $120. For more information and to find a retailer, visit http://www.sailorbags.com.
About SailorBags
SailorBags makes coordinated collections of soft goods out of genuine sailcloth. This time- and adventure-tested fabric is tough, weather-resistant and lightweight, making it perfect for travel gear, and giving SailorBags their unique nautical aesthetic. Offerings include tote bags and travel duffels, wine caddies, purses and wristlets, even pillows and placemats, all with a lifetime guarantee. SailorBags is headquartered between New York's Finger Lakes and Lake Ontario, keeping its designers inspired by water and the nautical lifestyle.