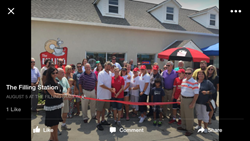 We're excited to welcome Alysa and Grady to the Crimson Cup community. Training entrepreneurs to run their own independent coffee shops is a big part of our success as a specialty coffee roaster and franchise alternative. - Greg Ubert
Columbus, Ohio (PRWEB) October 27, 2015
Columbus, Ohio coffee roaster Crimson Cup Coffee & Tea recently welcomed The Filling Station to the growing community of independent coffee houses, cafés and bakeries across 29 states that serve Crimson Cup beverages. Housed in a former gas station, the new café serves up a full range of espresso-based coffee drinks as well as donuts and other sweet treats baked from scratch.
On August 5, owners Alysa and Grady Watkins celebrated the grand opening of the new coffee house at 209 Village Road, Shallotte, North Carolina. The event featured a DJ, a decked-out classic car, a ribbon cutting ceremony and all the donut holes guests could eat. Baristas prepared and served more than 160 drinks.
"We're excited to welcome Alysa and Grady to the Crimson Cup community," said Founder and President Greg Ubert. "Training entrepreneurs to run their own independent coffee shops is a big part of our success as a specialty coffee roaster and coffee franchise alternative."
The Filling Station serves up Crimson Cup coffee, cappuccinos, lattes, café mochas and loose-leaf teas as well as an extensive menu of made-from-scratch donuts and other baked goods. Baked fresh daily, traditional glazed, cake and filled donuts – with unique flavors such as maple & bacon, French toast and banana split – have drawn rave reviews.
Alysa Watkins also operates Yums the Word, a full-service catering company specializing in weddings, social events, business meetings and meals for people arriving at beach vacation homes. Barbecue lovers can purchase her award-winning "Get Sauced" barbecue sauce at The Filling Station.
The couple learned how to run a coffee shop through Crimson Cup's 7 Steps to Success coffee franchise alternative program. Based on Ubert's book , Seven Steps to Success in the Specialty Coffee Industry, the program provides everything new business owners need to open and operate a successful coffee house.
"As a coffee roaster and coffee franchise alternative, Crimson Cup believes we succeed only when our customers do," Ubert said. "As a result, we support coffee shop owners at every step – from scouting a great location and writing a coffee shop business plan to choosing equipment, hiring staff and providing comprehensive training and marketing support."
In client surveys, Crimson Cup has found that 85 percent of coffee-shop customers completing its Seven Steps to Success training program have been in business for five years or longer. By comparison, federal government statistics show that half of all new restaurants – including independent coffee shops – close within three years of opening.
Using this proven system, Crimson Cup has helped open hundreds of independent coffee shops in 29 states since 1991. A dozen new coffee shops from eight states joined the Crimson Cup community in 2015, and at least 15 plan 2015 openings..
About Crimson Cup Coffee & Tea
Columbus, Ohio coffee roaster Crimson Cup Coffee & Tea is Roast magazine's 2016 Macro Roaster of the Year. Since 1991, Crimson Cup has sustainably sourced and roasted specialty coffee in small batches. The company also teaches entrepreneurs to run successful coffee houses through its coffee franchise alternative program, which includes a coffee shop business plan. Crimson Cup coffee is available through a community of more than 350 independent coffee houses, grocers, college and universities, restaurants and food service operations across 29 states, Guam and Bangladesh, as well as the company's own Crimson Cup Coffee Houses. To learn more, visit crimsoncup.com.