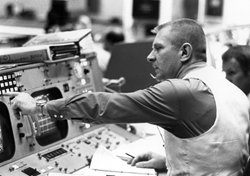 These three Apollo 13 astronauts were beyond our physical reach. But not beyond the reach of human imagination, inventiveness, and a creed that we all lived by: 'Failure is not an option.'
Kansas City, Missouri (PRWEB) October 26, 2015
Retired NASA Flight Director Gene Kranz, made famous in the film Apollo 13, will lecture about his experiences during 34 years in the space program, at an event presented by the Linda Hall Library. The lecture will take place at 7 p.m. on Thursday, November 5 at Unity Temple on the Plaza. The event is free and open to the public, but registration is required at: http://www.lindahall.org/event/failure-not-option/
Kranz is best known for directing the flight of Apollo 13's failed mission to land on the moon, and leading the effort to bring that spacecraft's crew safely back to earth. Kranz, his team, and the three astronauts all received the Presidential Medal of Freedom for their efforts to turn a potential tragedy into a successful outcome.
Kranz was portrayed by actor Ed Harris in the 1995 film, Apollo 13. The title of Kranz's talk is Failure Is Not an Option, a phrase made famous during a scene from the film in which Kranz announces to the NASA team that the crew of Apollo 13 will return home alive. Failure is Not an Option: Mission Control from Mercury to Apollo 13 and Beyond, is also the title of Kranz's 2000 autobiography.
In his autobiography, Kranz described the spirit behind the NASA team's ability to bring the Apollo 13 crew home safely: "All we had to work with was time and experience. The term we used was 'workaround' — options, other ways of doing things, solutions to problems that weren't to be found in manuals and schematics. These three astronauts were beyond our physical reach. But not beyond the reach of human imagination, inventiveness, and a creed that we all lived by: 'Failure is not an option.'"
Kranz was present during virtually all of what is arguably a romantic period of space exploration. Congress and the President made a concerted effort to make the United States the world leader in the space race following the Soviet Union's launch of Sputnik in 1957. In May 1961, President John Kennedy said, "I believe that this nation should commit itself to achieving the goal, before this decade is out, of landing a man on the moon and returning him safely to the Earth."
Commissioned into the U.S. Air Force in 1954, Kranz flew high-performance jet fighters and was a flight test engineer on early jet bomber development. In 1960, Kranz joined the NASA Space Task Group at Langley, VA, as a flight controller on Project Mercury. He served as flight director for the 33 missions of Projects Gemini, Apollo, and Skylab, and led the flight control team during the first lunar landing.
Kranz retired from NASA in 1994 and is currently a consultant and speaker. Since his retirement from NASA, Kranz has served as a flight engineer on a B-17 "Flying Fortress" and constructed an aerobatic biplane. "Failure is Not an Option" was selected by The History Channel as the basis for a documentary on Mission Control.
To find out more about the Gene Kranz lecture at Unity Temple visit: http://www.lindahall.org/event/failure-not-option/
For more information about future Library programs, visit http://www.lindahall.org
About the Linda Hall Library
The Linda Hall Library is among the world's foremost independent research libraries devoted to science, engineering, technology, and their histories. Founded in 1946 through an endowment by Linda and Herbert Hall, the library is a not-for-profit, privately funded institution, and is open to the public free of charge. Scholars, technologists, engineers, researchers, academic institutions and businesses, nationally and internationally, use the Linda Hall Library's collections to investigate, invent, and increase knowledge. The Library's holdings range from rare books to private papers, including extensive collections in diverse areas such as aeronautics, the history of food science, astronomy, Galenic medicine, engineering standards, a resource center for patents and trademarks and more. In addition to the libraries resources, hundreds of people attend the Library's public programs throughout the year to expand their awareness and understanding of science and technology. To learn more, visit http://www.lindahall.org.