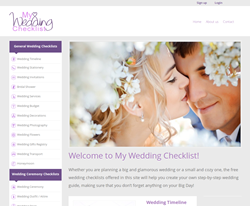 (PRWEB) October 28, 2015
MyWeddingChecklist launched the redesign of its website, myweddingchecklist.net, to provide upcoming brides with all the tools necessary to plan and prepare their dream wedding.
"The website was what we wanted to have when we got married," said Arik & Julia Cohen, owners of MyWeddingChecklist. "The redesigned website has a new look and improved functionality to ensure an easier and more streamlined experience for our users."
The revamped site features an updated look with the ability for brides to save their checklists as they go along, support for mobile view and a wealth of articles specially written to provide the brides with all the information they need.
A noteworthy feature of the new site is the ability for the bride-to-be to customize her checklists. Items that are not relevant can simply be deleted off any of the checklists, while any specific custom items that may be missing can be easily added on.
Additionally, a Wedding Budget page was added to make it simple to track the various expenses associated with the wedding.
While there are over 20 checklists in all, the Wedding Timeline Checklist is the place most brides-to-be start from. It includes a summary of all the key points that needs to be taken into account when planning a wedding as well as references to any relevant information to help complete these points.
But not only the Wedding Day is covered. Everything from Honeymoon to bachelorette-party to Wedding Gift Registry is covered.
"We realized that planning for the Wedding Day can be quite overwhelming and something that most brides may not be ready for. Rather than spending thousands of dollars on a Wedding Planner we sought to provide a do-it-yourself style website that anyone can use."
Visit myweddingchecklist.net to exeprience the redisgned website.