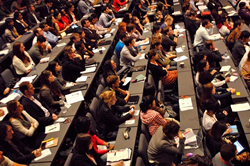 Oxford, Oxfordshire (PRWEB UK) 26 October 2015
For immediate release: 26 October 2015
Media Invitation
The 2015 Emerge Conference
Saturday 7 November 9:00-21:00 – Sunday 8 November 9:30- 18:00
Saïd Business School, University of Oxford (immediately next to Oxford rail station)
Sir Tim Smit KBE, Founder of the Eden Project, will be delivering the opening plenary at this year's Emerge Conference at the Saïd Business School. Now in its seventh year, Emerge is bringing together an impressive group of individuals who are focused on redefining the world in which we live; they will question what's next, and how future leaders can challenge the status quo in order to better society and bring about transformational change. With over 500 participants set to attend, the 60 global speakers will share their experience and knowledge of a diverse range of industries and subjects.
Both days offer a highly interactive programme which will feature a variety of sessions, broken into four categories – plenary sessions, conversations, masterclasses and workshops – offering a huge range of content for participants; whether they're after an introduction to the social impact sphere, or want to gain deeper insights and connections within their sector.
Speakers include:
James Brett, Founder, Plant for Peace
Melissa Fleming, Head of Communications / Chief Spokesperson, UN High Commissioner for Refugees
Mirjam Schöning, Global Head, Programmes & Partnerships, The LEGO Foundation
Kresse Wesling MBE, Co-Founder, Elvis and Kresse
The full list of speakers is available here.
Sessions include:
Masterclass: Storytelling: The Art and Science
Conversation: Giving money away is harder than making it
Masterclass: Gender and technology: the new frontier for women's rights
Workshop: 3D printing for Social Change
Conversation: Has the definition of a "good leader" changed?
The full programme is available here.
For the first time, there will also be an Oxford Union Debate; the proposition is "This House believes that you should work for a mainstream financial institution if you want to have the greatest social impact." Arguments for and against will come from speakers from Barclays, Meteos, OXFAM and Seedrs.
The Mustard Seed Competition will be returning for the second year. Pre-selected finalists will pitch their early-stage ventures in front of a panel of investors for the opportunity to receive investment of up to £500,000. The audience are also given the chance to affect the outcome by voting for their favourite start-up.
Co-organised by the Skoll Centre for Social Entrepreneurship and Student Hubs, the Emerge Conference was launched in 2009 in response to the exploding student interest in social entrepreneurship. It has grown into the largest and most important student gathering in the UK of this kind.
To attend the conference, or for more information please contact the press office:
Emily McDonnell, PR Coordinator,
Email: emily.mcdonnell(at)sbs.ox.ac.uk
Josie Powell, Senior Press Officer,
Mobile +44 (0)7711 387215, Tel: +44 (0) 1865 288403
Email: josie.powell(at)sbs.ox.ac.uk or pressoffice(at)sbs.ox.ac.uk
Notes to editors
About Saïd Business School
Saïd Business School at the University of Oxford blends the best of new and old. We are a vibrant and innovative business school, but yet deeply embedded in an 800 year old world-class university. We create programmes and ideas that have global impact. We educate people for successful business careers, and as a community seek to tackle world-scale problems. We deliver cutting-edge programmes and ground-breaking research that transform individuals, organisations, business practice, and society. We seek to be a world-class business school community, embedded in a world-class University, tackling world-scale problems.
In the Financial Times European Business School ranking (Dec 2014) Oxford Saïd is ranked 10th. It is ranked 10th worldwide in the FT's combined ranking of Executive Education programmes (May 2015) and 22nd in the world in the FT ranking of MBA programmes (Jan 2015). The MBA is ranked 7th in Businessweek's full time MBA ranking outside the USA (Nov 2014) and is ranked 5th among the top non-US Business Schools by Forbes magazine (Sep 2013). The Executive MBA is ranked 2nd worldwide in the Economist's Executive MBA ranking (Sep 2015) and 9th worldwide in the FT's ranking of EMBAs (Oct 2015). The Oxford MSc in Financial Economics is ranked 14th in the world in the FT ranking of Masters in Finance programmes (Jun 2015). In the UK university league tables it is ranked first of all UK universities for undergraduate business and management in The Guardian (Jun 2015) and 2nd in The Times (Sept 2015). For more information, see http://www.sbs.ox.ac.uk/
ENDS