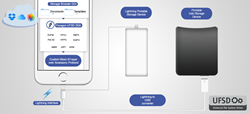 "We believe UFSD SDK for iOS will spur the development of generic Lightning to USB storage adaptors," says Alexey Adadurov, product manager at Paragon Software Group.
FREIBURG, Germany (PRWEB UK) 26 October 2015
Paragon Software Group, the technology leader in data security and data management solutions, announces the release of its UFSD software development kits for Android and iOS. The new UFSD SDKs make it much easier to develop apps that take advantage of USB storage.
USB storage is generally underused in mobile apps, even though there are various situations where it would be very convenient for users. Examples include on-the-go backup without relying on mobile data or Wi-Fi hotspots, and giving copies of photos or videos you've just taken to someone else without having to upload them. If you want to take movies on a trip to watch on the plane or in your hotel, for example, it's much easier to save large media files on a flash drive, and this also avoids cluttering up the device's limited internal storage.
Mobile OSes are beginning to incorporate USB storage support, but that support tends to be inflexible. This feature only came to Android in version 6 (Marshmallow), and that implementation only supports FAT32. That's a problem for developers who want to produce apps that run on the majority of Android phones and tablets, and an even bigger one for those planning to create cross-platform apps. Furthermore, FAT32 imposes file-size limitations that can be inconveniently restrictive when dealing with large files such as HD and 4K videos.
Paragon Software's new UFSD SDKs help fill this gap. Available for iOS (iPhone 5 and later, iPad 2 and later) and Android (version 3.0 and later), they abstract and implement support for multiple partitioning schemes (MBR, GPT and APM) and file systems (NTFS, HFS+, FAT32, ExFAT and ExtFS).
The UFSD SDKs will be of particular interest to storage vendors, as they can bundle Paragon's UMS service and other Paragon FS drivers with portable USB storage products to ensure compatibility and interoperability with any OSes including iOS, Android, Linux, Mac OS X and Windows. Similarly, ISVs can use the SDKs to simplify the development of Android and iOS apps supporting multiple brands of mobile USB storage.
Since iOS provides a very limited support for external storage and only allows access to images stored on digital cameras via custom Lightning to USB adaptor, storage vendors entering the iOS market need a companion app that would support their storage media's file system. Naturally, each vendor's app only supports its own storage brand.
"We believe UFSD SDK for iOS will spur the development of generic Lightning to USB storage adaptors. Previously, vendors of iOS accessories couldn't justify the immense development costs required for multiple file systems support in their companion apps. Paragon's UFSD SDKs help vendors minimize the development costs and consequent risks when bringing their products to the market ", says Alexey Adadurov, product manager at Paragon Software Group.
These new SDKs are based on Paragon Software's industry-proven cross-platform Universal File System Driver library, which is used around the world in billions of devices such as phones, tablets, routers, networked storage, and cameras. The company also provides OEM drivers to USB flash storage vendors. Furthermore, Paragon Software's product portfolio includes OEM file system drivers for OS X and Windows. Potential customers can therefore be assured that Paragon Software's technology is thoroughly tried and tested.
The UFSD SDKs provide an abstraction layer for many file systems. This lets developers of Android File Manager applications focus on the user-facing side of their applications and improve workflows and usability rather than worrying about low-level storage functions. Developers are thus freed from having to implement support for the various popular file systems, and that considerably reduces development and QA time and effort.
To provide a real-life example of how the UFSD SDK can be used, Paragon Software has developed a plug-in https://play.google.com/store/apps/details?id=com.paragon.tcplugins_ntfs_ro that adds USB storage support to the well-regarded, 4.5 star average rated, Total Commander file management app for Android. The plug-in has already been downloaded more than 400,000 times, which clearly demonstrates end-user interest in this capability.
A demonstration of a sample iOS app using the iOS UFSD SDK can be seen via YouTube: http://www.youtube.com/watch?v=bJBJ1oCUGAM .
Availability:
The UFSD SDKs are available for licensing: http://www.paragon-software.com/technologies/ufsd/ums-sdk.html For more details about the new technologies and evaluation options, please visit the company's web site: http://www.paragon-software.com/technologies/ufsd.html or contact technology@paragon-software.com
About Paragon Software Group:
Paragon Software Group is an innovative software developer focused on two dynamic growth markets. The company's comprehensive product line for the data storage market addresses the needs of data security, storage and management for PCs, servers and networks. A second portfolio of products focuses on mobile productivity applications for handheld devices. Founded in 1994, Paragon Software has offices in the USA, Germany, Japan, Poland and Russia, delivering its solutions to consumers, small business and enterprise clients worldwide through a network of Value Added Resellers, distributors and OEMs as well as online through the company website. Paragon Software provides technology to a host of world-class companies and partners including Belkin, Bosch, Cisco, D-Link, Dell, Toshiba, HP, Western Digital Corp., ASUS, Seagate, LG Electronics, Logitech, Buffalo, Acer, EMC/Iomega, Siemens, Lenovo, Microsoft, Motorola, Nokia and ZTE. For more information please visit the company website at http://www.paragon-software.com.