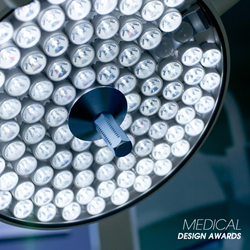 Como, Italy (PRWEB) October 27, 2015
The International Medical Product Design Awards is looking for outstanding medical projects and designs that improve the quality of life worldwide through good design. The medical product design competition is seeking for greatest achievements in health care industry. Medical product brands, industrial designers, scientific instrument makers, medical device producers and research equipment manufacturers worldwide are invited to submit their best medical products.
The International Medical Product Design Awards has been growing in participation over the last years with a high quality of entries evaluated by an international jury panel, composed of both academic and professional jury members. Nominated projects are evaluated under three sub-categories to recognize the very best designs in medical industry. Sub-categories of the medical product design competition include "scientific instruments", "medical devices" and "research equipment". Best medical designs will be highlighted for their high quality, technical excellence and performance. Innovative and sustainable solutions within medical industry will also get special attention in the accolades.
Nominations for the A' International Medical Product Design Awards is open until February 28, 2016 with a public results announcement date on April 15, 2016. Winners will be granted the highly coveted A' Design Prize that includes a series of PR, marketing and publicity tools to celebrate the status of winning the International Medical Product Awards. In addition, all the laureates of the A' Medical Product Design Awards will be provided with an exclusive interview which will be published at Designer Interviews website as well as included in the Winners Press Kits, which will be distributed to thousands of press members who have gained press accreditation from A' Design Award and Competition. More details are available on http://www.adesignaward.com
About the International Medical Product Design Awards
The A' Design Award & Competition has been established in order to recognize an excellence in design and to promote good designers across the globe. The primary aim of the International Medical Product Design Awards is to create a global awareness for good design of scientific instruments, medical devices and research equipment in order to push forward innovative solutions within the industry. The ultimate aim of the A' Design Awards is to advance industrial designers, medical companies and international brands worldwide to develop superior products and projects that benefit society. To learn more about International Medical Product Design Awards please visit http://www.designaward.com