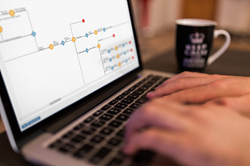 Ensures all aspects of the business are flowing efficiently and consistently
Clearwater, FL (PRWEB) October 27, 2015
With the growth of Peltz Shoes, a Task Management Software, "JobTraQ", has been adopted to better serve the growing business needs and daily demands, and to create a more integrated and organized business unit. This system allows Peltz to create an automated, individual task, or workflow, to track the entire individual and/or group daily responsibilities to ensure all departments are working together properly and to help increase productivity.
JobTraQ has proven to be a great investment and fit for Peltz Shoes while they strive for the most productive and well-organized business environment possible. JobTraQ is extremely user friendly, and is a great way to maintain productivity and efficiency. It helps to ensure all aspects of the business are flowing consistently. This software serves as a great tool for communication between departments to ensure all daily functions and/or long term projects are completed in a timely manner. It has also proven to be a great way to manage individual and team workloads, as well as uphold accountability each step of the way. This, in turn, has allowed Peltz to take a deeper look at current processes, and to look at ways to strengthen them and make them more efficient.
Peltz Shoes has utilized JobTraQ for their individual one-time tasks, to daily/weekly/yearly recurring tasks, so that nothing falls by the wayside. By implementing JobTraQ, Peltz has been able to assist internal and external customers in a timely and more efficient manner.
About Peltz Shoes
Peltz Shoes is a multichannel merchant of high quality, styled and comfort-oriented footwear at a fair price. In 1957, the first Peltz Shoes location opened in St. Petersburg, FL, and they have been providing customers with "A Perfect Fit" every time by providing sizes, service, savings and selection. Peltz Shoes carries products from more than 150 top brands including Clarks, Sperry, Merrell, New Balance, Asics, Rockport, Ecco, Dockers, Naot, La Plume, Bernie Mev, Bostonian, BOC and more.
The modern 9,000 to 15,500 square-foot retail stores, together with a new distribution center, house over 300,000 pairs of shoes. The quality of the products and the knowledge of the staff are the reason that Peltz Shoes is the number one shoe store in Pinellas County since 1957. Peltz Shoes has retail locations in St. Petersburg, Clearwater, Brandon, Bradenton, Sarasota, Ft. Myers Florida, and online at http://www.PeltzShoes.com.
To learn more about Peltz Shoes please visit: http://www.PeltzShoes.com