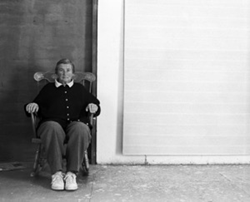 A pictorial universe of overwhelming richness that offers mesmerizing visual experiences to the patient eye
Düsseldorf, Germany (PRWEB) October 26, 2015
The new retrospective "Agnes Martin" at the K20 Grabbeplatz in Düsseldorf is a rare opportunity to see the artist's extraordinary work -- which rarely appears in gallery and museum collections -- in all of its facets. 70 paintings, about 35 drawings, and the print cycle On a Clear Day, will be shown from November 6, 2015 – March 6, 2016, including early pictures, experimental works and assemblages produced in New York in the 1950s, and her consummate late works.
Martin's art is known for her commitment to abstraction, and her soft-spoken oeuvre evolved in the milieu of Abstract Expressionism and minimalist tendencies. In the 1960s, Martin's artistic vocabulary concentrated on horizontal and vertical lines that structure the surface in grid fashion or subdivide it into stripes – almost exclusively on square canvases and sheets of paper and working with pencilled lines and a reduced palette of delicate grey and chromatic tones. Through this reduction and concentration, Martin developed a pictorial universe of overwhelming richness, one that offers mesmerizing visual experiences to the patient eye.
Early on in her artistic career, Martin won the recognition of New York's male-dominated art scene. The artist, however, spent most of her life in the solitude of New Mexico.
The exhibit is a collaboration of the Tate Modern, Kunstsammlung Nordrhein-Westfalen, Los Angeles County Museum of Art, and the Solomon R. Guggenheim Museum in New York.
K20 Grabbeplatz is one of three art institutions and exhibit venues in Düsseldorf that house the art collection of the State of North-Rhine Westphalia (Kunstsammlung NRW). In 2011, Kunstsammlung NRW acquired a painting by Martin for its permanent collection. It has since been presented in the "American Gallery" (Robert Rademacher Galerie) along with works by her contemporaries Jackson Pollock, Ellsworth Kelly, Franz Kline, Ad Reinhardt, and Mark Rothko.
For more information on the retrospective, please visit http://www.kunstsammlung.de.
Düsseldorf's tourism office is offering hotel and city specials for stays in 2015. The package, called "Düsseldorf à la Card," can be booked right from the tourism office's website at https://www.duesseldorf-tourismus.de/en/accommodation/hotel-packages/duesseldorf-a-la-card/. Prices start at €49 per night per person based on double-occupancy for a 2-3-star hotel in the city center and at €95 per person for a 4-star hotel. The package includes breakfast, one DüsseldorfCard (free public transportation within city limits plus 30 free or reduced admissions to city attractions), and a city information package. Please check the website for current information.
Düsseldorf Marketing & Tourism GmbH is the visitors and convention bureau of the city of Düsseldorf. Its responsibilities include tourism and city marketing, as well as conference and meeting marketing, hotel reservation services, fairs and convention services, city event ticket sales and advance ticket reservations. For more information, visit http://www.visitduesseldorf.de.
Düsseldorf Airport, Germany's Next Generation HubTM, offers several non-stop flights from US cities (Atlanta, Chicago, Ft. Myers, Los Angeles, Miami, New York, Newark), as well as convenient connections to many European cities. For more information about the airport, visit http://www.dus.com.