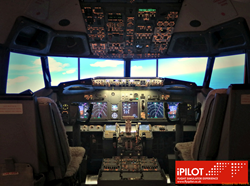 From aviation buffs to those just looking to try something new, the iPILOT experience is utterly unique.
London (PRWEB UK) 2 November 2015
PILOT, the first and the largest international chain of high-tech flight simulators, today announced the opening of a new store in central London.
British aviation fans now have the opportunity to experience the thrill of flying a Boeing 737 airliner, alongside a qualified pilot instructor, to and from any of 24,000 replicated airports around the world, at one of the most accessible locations in central London.
"Most flight simulator facilities are located in or around airports or airline company premises, meant specifically for the use of pilots and pilots-in-training," said Wolfram Schleuter, founder and CEO of iPILOT. "Our goal is not only to provide the most realistic in-flight experience, but to also make it more accessible and affordable to people who might otherwise never have the chance to enjoy it. Now, at Crawford Street (Baker Street Underground station), customers can experience what it takes to be a pilot, during their lunch break or on the way home, without a compromise to their time."
The new Boeing 737 simulator offers a fully enclosed to-scale cockpit, complete with video screens that re-create the spectacular airborne views of real flight paths. The flight deck is a life size replica of the Boeing 737, and its overhead panel is fully functional.
"From aviation buffs to those just looking to try something new, the iPILOT experience is utterly unique in that the overall effects, cockpit, and navigation technology all work in tandem to create such a life-like simulation, that commercial pilots often use our facilities to train," says Simon Burnham, professional pilot, iPILOT London Store Manager and one of the biggest aviation voices currently on social media.
iPILOT is open daily from 10:00-20:00. Gift vouchers, as the perfect gift for your 'special someone' or the aviation enthusiast in your life, are available for purchase and reservations can be made online at http://www.flyipilot.co.uk or via phone at 020 3695 0968. Sessions begin from 15 minutes and range up to three hours in length – no skill or previous experience is necessary.
iPILOT also offers a range of special sessions, including a fear of flying programme, a romantic experience complete with a bottle of sparkling wine served 'on board,' as well as being fully equipped to host corporate and team building events. For more information and a full list of prices, please visit http://www.flyipilot.co.uk.
About iPILOT
iPILOT was founded in 2009 by German entrepreneur and private pilot, Wolfram Schleuter. After establishing several successful tourism and event production companies across the UK and Germany, Wolfram decided to merge his favourite hobby with his extensive business knowledge in the form of a flight simulator, made easily accessible and affordable for the general public. The first iPILOT location was opened at Bluewater Shopping Centre in Kent, in June 2009, quickly followed by a European expansion in November 2010; and there are today 10 locations across 5 countries, including Dubai, London, Zurich and Prague.
iPILOT youtube channel and videos http://www.youtube.com/user/iPilotTV
iPILOT London store address:
Suite 2, 83-87
Crawford Street
London, W1H 2HB
Contacts
Martin Benes
Chief Marketing Officer
martin(dot)benes(at)flyipilot(dot)com
+44 020 3695 0968, ext 2
+420 774 961 834