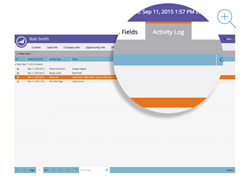 The integration of CallRail with Marketo's Engagement Marketing Platform empowers marketers with a richer set of data about the customer journey by exposing telephone call activity
Atlanta, GA (PRWEB) October 27, 2015
CallRail, the market leader in self-service call analytics, today launched a direct integration with Marketo, the leading provider of software and solutions designed to help marketers master the art and science of digital marketing.
CallRail is now part of Marketo LaunchPoint™, the most complete ecosystem of best-of-breed marketing solutions. LaunchPoint's innovative providers span analytics, big data, content marketing, events, webinars, lead data, lifecycle marketing, online ads and campaigns, sales tools, and social media.
Marketo's marketing automation software gives marketers an understanding of lead life cycles via form submissions, clicks, and other online activities. The CallRail Direct Connect Marketo integration provides marketers with a holistic view of inbound lead actions by including telephone call activity directly in the Marketo platform, thus alleviating attribution blind spots.
"Conversions are occurring more frequently over the phone," said Lance Weatherby, Vice President of Marketing for CallRail. "CallRail's direct integration with Marketo provides marketers with visibility into this increasing phone call lead activity and enables them to see the full story behind the path to purchase when that path includes a phone call. Moreover, CallRail's Direct Connect integration with Marketo allows marketers to use their CRM of choice."
"The integration of CallRail with Marketo's Engagement Marketing Platform empowers marketers with a richer set of data about the customer journey by exposing telephone call activity," said Lou Pelosi, Senior Director of LaunchPoint for Marketo. "We are thrilled to have CallRail as part of Marketo LaunchPoint."
About CallRail
CallRail provides call analytics to more than 25,000 companies and marketing agencies in North America. CallRail tracks phone calls from online and offline marketing campaigns, provides insight into which campaigns are performing best, and records calls for lead qualification and coaching to increase call conversion rates. CallRail has been recognized as one of the fastest growing companies in Atlanta for two consecutive years. Learn more at http://www.callrail.com
About Marketo
Marketo provides the leading marketing software and solutions designed to help marketers master the art and science of digital marketing. Through a unique combination of innovation and expertise, Marketo is focused solely on helping marketers keep pace in an ever-changing digital world. Spanning today's digital, social, mobile and offline channels, Marketo's Engagement Marketing Platform powers a set of breakthrough marketing automation and marketing management applications to help marketers tackle all aspects of digital marketing from the planning and orchestration of marketing activities to the delivery of personalized interactions that can be optimized in real-time. Marketo's applications are known for their ease-of-use, and are complemented by the Marketing Nation®, a thriving network of more than 450 third-party solutions through our LaunchPoint® ecosystem and over 50,000 marketers who share and learn from each other to grow their collective marketing expertise. The result for modern marketers is unprecedented agility and superior results. Headquartered in San Mateo, CA with offices in Europe, Australia and Japan, Marketo serves as a strategic marketing partner to more than 4,100 large enterprises and fast-growing small companies across a wide variety of industries. For more information, visit http://www.marketo.com.