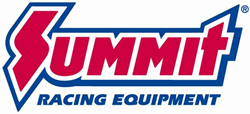 Tallmadge, OH (PRWEB) October 30, 2015
Rod Hall drove a Bronco to victory in the 1969 Mexican 1000. Forty-six years later he rebuilt the Bronco and placed second in the 2015 Mexican 1000--and enthusiasts can replicate the build with Summit Racing's Rod Hall Mexican 1000 Bronco Combos.
Engine Combo
Under the hood of the Bronco is a 350 horsepower Ford Racing 347 cubic inch crate engine. Performance enhancements include a Milodon oiling system, MSD 6ALN ignition and Blaster 2 coil, a Griffin four-core radiator, and a Flex-a-lite flex fan.
Fuel System Combo
The 650 cfm Holley Ultra XP carburetor was modified with Holley off-road needle and seat assemblies to control fuel slosh. A Carter electric fuel pump, plus Summit Racing and Aeromotive fuel filters feed the carburetor through Aeromotive, Fragola, and Summit Racing AN plumbing.
Transmission Combo
Transmission builder Steve Culhane worked over the C-4 slush box and hooked it to a Performance Automatic 2,800 rpm stall torque converter. A B&M Super Cooler keeps the C-4 running cool, plumbed with Aeroquip, Fragola, and Summit Racing AN hose and fittings.
Exhaust Combo
The Bronco's exhaust system is as basic as it gets—a pair of Hedman Elite headers, a pair of Flowmaster Super 10 mufflers, and custom pipes fabbed from Walker U-bends. Basic, but effective.
Front Axle Combo
The Bronco's Dana 44 front axle was totally rebuilt and upgraded with Motive Gear 4.56 gears, a Yukon Gear differential rebuild kit, Spicer U-joints, and top-quality Timken and BCA bearings and seals.
Rear Axle Combo
Rod Hall managed to bend the Bronco's Ford 9 inch rear axle years back, but Samco Fabrication saved the housing, fitted the axle with a spool and Motive Gear 4.56:1 gears, and gave it a differential overhaul with Timken bearings.
Brake Combo
Rod Hall didn't want to take chances with 46 year old brakes, so he replaced the front drums with an SSBC 12 inch disc brake conversion kit and rebuilt the rear drums.
Mounts and Bushings Combo
Most of the Bronco's rubber bits were trash. They were replaced with an Energy Suspension Hyperflex bushing kit, transmission mount, and strut rod bushings, plus a pair of Anchor motor mounts.
Electrical Combo
The Bronco's wiring took a beating from all those years sitting in the elements. Samco Fabrication added a Ron Francis Hot Spot Power Strip to safely hook up the KC Hilites off-road lights and other accessories. They also used Summit Racing toggle switches to control stuff, and added a Moroso battery disconnect
Wheels and Tires Combo
Aluminum slot mags were the hot setup back in the 1960s. American Racing Wheels Ansen Sprints, are a near-perfect match to the Bronco's original wheels. BFGoodrich, one of Rod Hall's long-standing sponsors, provided a set of All-Terrain TA KO tires.
Gauges Combo
Gauges are critically important in desert racing where temperatures can skyrocket quickly. The original gauges were replaced with a complete set of reliable Auto Meter Sport-Comp gauges.
Completer Combo
There are always bits and pieces needed to finish up any project, and the Bronco was no exception. It got a Moroso power steering tank and Perma-Cool power steering cooler, a March crank pulley, Continental V-belts, and a extra-loud Hella Supertone horn to let spectators know Rod Hall was coming.
Read all about the Rod and the Bronco build at Summit Racing's OnAllCylinders blog.
Summit Racing Equipment
http://www.SummitRacing.com
1-800-230-3030