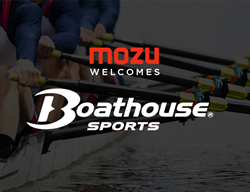 With Mozu, we can deliver remarkable shopping experiences without introducing unnecessary complexity.
Austin, TX (PRWEB) October 27, 2015
Mozu, the modern cloud commerce platform, today announced Boathouse Sports, a premier manufacturer of custom athletic apparel, as the latest innovative retailer to join their expanding client roster. Headquartered in Philadelphia, PA, Boathouse delivers high-quality athletic gear to professional sports teams, universities, schools and private clubs around the world. Mozu will empower Boathouse to scale and manage 1,500 separate websites from a centralized location, during a period of substantial global growth.
Boathouse Sports' unique business model allows customers to create their own online stores, called microsites, where they can design custom athletic apparel, in their colors, and upload logos to build a completely custom garment, ready-for-sale online in less than 2 business days. The logo and colors are applied to a variety of garments that the customer can buy and sell to others through their unique microsites. From there, orders can be placed in bulk for teams, or sold and shipped individually. These cutting-edge retail features delight customers but pose significant scaling challenges.
Mozu's robust and infinitely extensible platform has provided Boathouse with a custom solution that scales to support thousands of microsites. Using Mozu's "Categories" feature, all Boathouse Sports customers' microsites live conveniently beneath one domain. Now Boathouse doesn't have to manually create and manage thousands of separate URLs. Echidna Inc, one of Mozu's Solutions Integration Partners, built a portal that seamlessly connects front-end customer engagement with Mozu's platform, ensuring that Boathouse can continue to scale to meet customer demand. As their business grows, Mozu expands to support their needs.
The new solution delivers efficiency and simplicity throughout the transaction. Once a customer creates their custom store, ShipWorks orders are drawn from Mozu. They then print labels, create pack lists, and allow each customer to make sure their items are shipped to the right places.
"Modern commerce needs modern solutions," said Clay Olivier, Volusion CEO. "Boathouse Sports is precisely the type of innovative retailer that we love to work with, combining the power of Mozu's highly scalable platform and Boathouse's compelling brand and high-quality products."
Boathouse Sports conducted a thorough review of the technologies available to meet their needs. They ultimately selected Mozu because it offered unrivaled scalability while still preserving simplicity in the maintenance of all customer-created sites. Because Boathouse Sports' model allows each customer to create a store of their own, any solution would need to streamline management while enabling modern experiences that engage shoppers each and every time they visit the site.
"Boathouse Sports has worked hard for over two decades to establish itself as the premier manufacturer of high-quality athletic apparel," said Boathouse Sports CEO John Strotbeck. "We're thrilled to be working with Mozu to ensure that our customers get the same quality experience on our commerce site as they do when they receive our products. With Mozu, we can deliver remarkable shopping experiences without introducing unnecessary complexity."
To learn more about Mozu or request a demo, please visit https://www.mozu.com/.
About Mozu
Mozu is the modern cloud commerce platform that gives innovative brands the power to deliver superior shopping experiences.
Our open platform frees marketers from IT dependance, while our API-first approach and open source SDKs empower developers to deploy the technologies they need using the languages of their choice. Mozu makes it easier than ever for brands to create custom cross-channel sites that drive sales and accelerate time-to-market.
Mozu was developed out of the technical experience and resources of Volusion, a proven, global leader in eCommerce software. Request a demo at https://www.mozu.com/.
About Boathouse Sports
Boathouse Sports is the nation's number-one manufacturer of custom athleti apparel since 1989. Handcrafted in Philadelphia, PA, Boathouse delivers superior athletic gear to professional sports teams, universities, schools and club teams worldwide, inspiring athletes and coaches to train and compete at their best. Boathouse Sports is the official sponsor and outfitter of the USA Olympic Rowing Team and Ivy League Rugby. Learn more or design your own custom team uniforms and jackets at http://www.Boathouse.com.