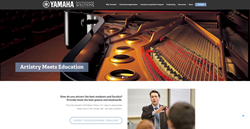 We provide a unique balance of tradition and technology, offering the best solutions for students, faculty, artists and our institutional customers," said Dan Rodowicz, channel manager for the ISG.
BUENA PARK, Calif. (PRWEB) October 26, 2015
Yamaha Corporation of America today announced the launch of an ambitious website designed to provide valuable online resources for academic institutions nationwide.
The new site ( http://www.YamahaISG.com ) was built by the company's Institutional Solutions Group (ISG), and offers a broad presentation of Yamaha musical instrument applications for stage and performance facilities, teaching studios, long-distance learning centers, classrooms, practice rooms and music labs, as well as recording studios and programs for music and wellness. It also provides assistance with inventory acquisition and fundraising campaigns to academic organizations across the nation.
The Yamaha ISG was established in 2011 to create and implement specific marketing plans that demonstrate the institutional benefits of Yamaha keyboard products and services. The group is charged with improving dealer sales skills within this market and building on the relationships, sales, support and strategies that have successfully increased the company's academic presence in recent years.
Dan Rodowicz, channel manager for the ISG, said that the goal of the new website is to help Yamaha better align with its institutional customers looking to complete the selection process for performance instruments and technology that can be used for a wide range of applications.
"No other manufacturer provides the level of service that Yamaha does, largely due to the breadth and depth of instruments, programs and customer support we offer," said Rodowicz. "This new site illustrates and underscores our mission to preserve musical tradition — for example, maintaining our legacy of unmatched craftsmanship and the signature sounds of our finest Yamaha and Bösendorfer concert grand pianos. Equally important, it reflects our company's commitment to creating innovative new products, technologies and processes. We provide a unique balance of tradition and technology, offering the best solutions for students, faculty, artists and our institutional customers."
Doug Lampe, Senior Major Gift Officer at Drake University, said, "We feel fortunate to have been associated with Yamaha during our piano fundraising campaign. Our Music Department's goal was to replace many of our aging pianos. With Yamaha's partnership, we experienced great success. Their passion and "can do" attitude helped us secure many instruments from practice pianos, to grand pianos and the flawless, CFX Concert Grand. The impact of their support will benefit students for generations!"
The ISG recently played a major supporting role to The Bienen School of Music at Northwestern University, which recently opened a new music building equipped with 119 Yamaha instruments, including upright pianos, grand pianos and digital pianos purchased for music labs, practice rooms and academic faculty offices. According to Rodowicz, this relationship illustrates the multi-faceted approach that distinguishes the ISG, which emphasizes a commitment to excellence in customer service.
Added Rodowicz: "Our group's comprehensive solutions enable students and faculty members to collaborate in ways never before possible — one-on-one, in larger group settings, in performance venues…even around the world."
For more information about this Yamaha Institutional Solutions Group web initiative, please visit http://www.YamahaISG.com
-END-
About Yamaha
Yamaha Corporation of America (YCA) is one of the largest subsidiaries of Yamaha Corporation, Japan and offers a full line of award-winning musical instruments, sound reinforcement and home entertainment products to the U.S. market. Products include: Yamaha acoustic, digital and hybrid pianos, portable keyboards, guitars, acoustic and electronic drums, band and orchestral instruments, marching percussion products, synthesizers, professional digital and analog audio equipment, Steinberg recording products and Nexo commercial audio products, as well as AV receivers, amplifiers, MusicCast wireless multiroom audio systems, Blu-ray/CD players, earphones, headphones, home-theater-in-a-box systems, sound bars and its exclusive line of Digital Sound Projectors. YCA markets innovative, finely crafted technology and entertainment products and musical instruments targeted to the hobbyist, education, worship, professional music, installation and consumer markets.