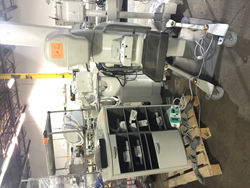 Chicago, Illinois (PRWEB) October 26, 2015
Centurion Service Group, the world's largest medical equipment auction house, is proud to announce their upcoming live medical equipment auction.
The auction will take place Tuesday, October 27 and Wednesday, October 28 starting at 9:00am CST each day. The equipment will be sold at their Chicago warehouse located at 1400 N. 25th Avenue, Melrose Park, IL 60160. Centurion Service Group will be offering online simulcast bidding and theater style bidding.
A few highlights of the sale are: aGE Diamond MGX-2000 Mammo, a Carl Zeiss OPMI Visu 200 Surgical Microscope, a Penlon America Prima SP3, Amsco V-116 Sterilizers, Stryker 1288 HD CCU with 1288HD Camera Heads and Coupler, Hill-Rom Versacare beds, a GE 46-270954G2 Mobile X-Ray, a Laserscope Venus Laser, a Valley Lab Force FX ESU, an OSI 5856 Jackson Table with Hand Control and much more!
Registration information and the complete list of medical equipment can be found at: http://www.centurionservice.com/live-auctions/chicago-auction-1