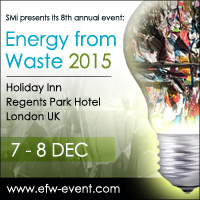 "EU legislation is complex and evolving, and its impact on Waste-to-Energy is tremendous" - ESWET
London (PRWEB UK) 27 October 2015
With the purpose to transform Europe into a more competitive resource-efficient economy, the EU Circular Economy Package will address EU Waste Framework and landfill directives with an aim to boost recycling, secure access to raw materials and create jobs and economic growth. Energy From Waste 2015 will address new regulations surrounding the circular economy alongside topics such as merchant funding, refuse derived fuel, as well as insight into technological advancements in areas such as feedstock, biomass gasification and combined heat/power.
Key presentations of 2015 will include:

An opening keynote from the Environmental Services Association on how EFW can continue to play a role in the circular economy from Executive Director, Jacob Hayler
An update on changing regulations surrounding a circular economy. Cameron McKenna LLP answer questions such as: What are the most important targets? What will be the impact to EFW? What else should we be aware of?
Guidance from the Environment Agency on EU waste management regulations and adapting to changes.
With a focus on refuse derived fuel, Ferrovial/Amey discuss the current export market, evaluate sustainability and ask the question: Should we aim to limit exports and increase retention?
European Suppliers of Waste to Energy Technology provide an overview on technological characteristics to fulfil BREF, circular economy and energy union demands
Are gasification and incineration plants the way forward? Should the UK encourage smaller more sustainable energy and waste management plants? What needs to change to allow acceptable and sustainable EFW plants to flourish? Organic Power discuss this and more in a address focused on British Policy.
The Green Investment Bank reveal what makes a project bankable with unique insight into merchant funding and changing markets.
The full speaker line up and conference agenda is available online at
http://www.efw-event.com
This year's conference will also provide delegates with the opportunity to take part in two interactive post-conference workshops.
1. Energy from Waste Markets
Led by: Alban Forster, Director, SLR Consulting
2. Practical Policy Implications for Energy from Waste
Led by: Jacob Hayley, Executive Director, Environmental Services Association
Those interested in attending are advised to book by 30th October to receive an early bird offer saving £100 off the conference price.
8th annual Energy From Waste Conference
7th-8th December 2015
London, UK
http://www.efw-event.com
------------------------- END OF PRESS RELEASE--------------------------