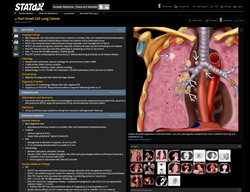 Phillipsburg, NJ (PRWEB) October 27, 2015
INFINITT North America, an award-winning provider of Enterprise Image and Data Management systems for healthcare, today announced a marketing agreement with Elsevier that will enable INFINITT PACS users to seamlessly access STATdx diagnostic decision support for radiology. STATdx, an Elsevier Clinical Solutions product, is the most complete and trusted resource for diagnostic decision support, used by radiologists to increase speed, accuracy and diagnostic confidence.
STATdx is recognized for its exceptional authorship; topics cover all radiology specialties and include key information such as differential lists, patient cases, image galleries, and normal imaging anatomy.
"We are really excited to be able to offer a new, clinical level of integration with STATdx that is context-sensitive. Using this advanced search-engine, STATdx will proactively suggest differential diagnoses topics based on the type of scan and anatomical region," said David Smarro, CEO of INFINITT North America.
"Offering streamlined access to this important clinical tool will add value to the INFINITT PACS and facilitate the adoption of clinical decision support (CDS) in radiology," said Smarro.
The STATdx integration with INFINITT PACS enables radiologists to search across 200,000 high-quality images for reference and decision collaboration with physicians. There are more than 4,300 diagnoses as well as 1,300 expert Differential Diagnosis modules that provide lists of diagnoses relevant to a particular finding.
Developed under the company name Amirsys, STATdx consists of more than 300 anatomy modules which include normal anatomy color graphics and multi-modality images and planes, all extensively labeled.
According to eHealth University, Centers for Medicare and Medicaid Services, Clinical Decision Support (CDS) has the potential to improve care and is a centerpiece of the Medicare and Medicaid EHR Incentive Programs. "When CDS is applied effectively, it increases quality of care, enhances health outcomes, helps to avoid errors and adverse events, improves efficiency, reduces costs, and boosts provider and patient satisfaction." (Ref.1 )
INFINITT is committed to improving health outcomes and the quality of patient care through advanced clinical, viewing and communication tools. Contact INFINITT to arrange a product demonstration at RSNA 2015. marketing(at)infinittna(dot)com
1) CMS.gov Centers for Medicare and Medicaid Services
About INFINITT North America
INFINITT North America is an award-winning developer of web-based image and information management solutions for healthcare with more than 3500 PACS installations in 45 countries. Infinitt's latest developments include the INFINITT Healthcare Platform (IHP), an enterprise-class Vendor Neutral Archiving (VNA) solution that will unify content across disparate systems and all data formats. It provides open, standards-based storage and manages DICOM and non-DICOM data with intelligent Lifecycle Information Management. The new platform makes it easier and more cost-efficient to manage data across multiple sites and to comply with retention policies and security regulations.
For more information, call 877-387-6960 or visit INFINITT at RSNA15 in Chicago, Booth #2548.
About Elsevier
Elsevier is a world-leading provider of information solutions that enhance the performance of science, health, and technology professionals, empowering them to make better decisions, deliver better care, and sometimes make groundbreaking discoveries that advance the boundaries of knowledge and human progress. Elsevier provides web-based, digital solutions — among them ScienceDirect, Scopus, Elsevier Research Intelligence and ClinicalKey — and publishes more than 2,500 journals, including The Lancet and Cell, and more than 33,000 book titles, including a number of iconic reference works. Elsevier is part of RELX Group plc, a world-leading provider of information solutions for professional customers across industries.