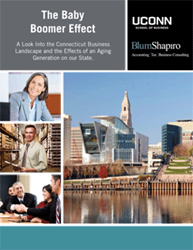 West Hartford, Connecticut (PRWEB) October 27, 2015
BlumShapiro, the largest regional business advisory firm based in New England, and the University of Connecticut (UConn) have released the first installment of a report called, "The Baby Boomer Effect," which will examine the state's business landscape and the impact an aging generation is having on Connecticut.
The first installment of the report was issued today which examines the current and future demographics of business ownership in Connecticut and the dramatic increase the state will see over the next 10-15 years of business owners reaching retirement age.
One critical finding in this initial report is that 47% of all Connecticut business owners are expected to be 55 or older by 2025 which is a substantial increase from right now. Additionally, the rate of younger business "buyers" to older business "sellers", which 15 years ago was 2-1 in favor of buyers, has now dropped to a ratio of nearly 1-1.
Thomas DeVitto, Chief Marketing Officer for BlumShapiro, said the size and scope of the generational shift we are seeing with the Baby Boomers right now is unlike any seen before and this study will examine the ramifications of that shift in a number of areas.
"The ramifications of an aging population have received a lot of attention over the last several months, from effects on our health system and Medicaid, to the pending skills gap in our workforce," Mr. DeVitto said. "This report focuses on quantifying the significant rise of business transfers that will be associated with the aging of business owners over the next several years and the direct and indirect effect it will have on business."
Professor David Souder of the UConn School of Business said small businesses represent 87% of all businesses in Connecticut, and with so many owners nearing retirement age, the implications run deep.
"Baby Boomers have caused businesses to change throughout their lives and will keep doing so as they retire. Our report offers insights into indirect effects this will have, particularly with the likelihood that business owners will have fewer potential buyers for their companies than in the past," Professor Souder said. "The declining ratio of buyers to sellers may not only encourage sellers to work longer in the hope of getting a better price, but ultimately could lead to them selling their companies at a discounted rate without their desired outcome."
The Baby Boomer Effect survey can be found in full at http://www.blumshapiro.com.
BlumShapiro is the largest regional business advisory firm based in New England, with offices in Connecticut, Massachusetts and Rhode Island. The firm, with over 400 professionals and staff, offers a diversity of services, which includes auditing, accounting, tax and business advisory services. In addition, BlumShapiro provides a variety of specialized consulting services such as succession and estate planning, business technology services, employee benefit plan audits and litigation support and valuation. The firm serves a wide range of privately held companies, government and non-profit organizations and provides non-audit services for publicly traded companies.
Established in 1941, the University of Connecticut School of Business is an internationally recognized leader in management education and research. The business school is one of 14 schools and colleges at Connecticut's flagship university and operates in four campuses (Storrs, Hartford, Stamford and Waterbury) offering academic programs at the bachelors, masters, doctorate and advanced certificate levels, as well as customized education and outreach services to the corporate community. UConn's business school is ranked among the nation's Top 25 public institutions by U.S. News and World Report and has been fully accredited internationally by the Association to Advance Collegiate Schools of Business (AACSB) since 1958.