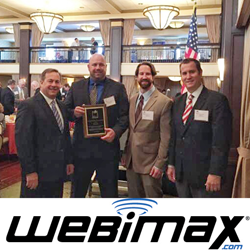 Since we moved into Camden last December we have really felt a sense of community from the public, private and non-profit sectors that we hadn't felt before.
Collingswood, New Jersey (PRWEB) October 26, 2015
WebiMax Received the Tri-County Summit Award for their outstanding achievements in economic development. The award was presented to WebiMax CEO Ken Wisnefski, CTO Sean O'Donnell, and CFO Kevin O'Brien by Camden County Freeholder Director Louis Cappelli Jr.
Over 300 business and industry leaders, bankers, entrepreneurs and government officials from throughout Southern New Jersey met at the Collingswood Grand Ballroom on Oct. 23, to discuss the region's economy, job creation and to honor those companies that are making strides. WebiMax was among those honored for their contributions to Camden County.
WebiMax is the first company to set up shop along the Camden Waterfront under the state's Economic Development Act signed into law by Governor Chris Christie last year. The NJ Economic Opportunity Act contains incentives that are attracting a coalition of businesses that are bringing an influx of investment, development and most importantly permanent jobs to Camden.
"I thank the greater business community and the Chambers of Commerce for Camden, Gloucester and Burlington counties for their recognition of our efforts," said WebiMax CEO Ken Wisnefski. "Since we moved into Camden last December, we have really felt a sense of community from the public, private and non-profit sectors that we hadn't felt before. We hope to reciprocate that gift by continuing our efforts to bring more prosperity and economic growth into the city of Camden, and by extension all of South Jersey."
Driven for success, WebiMax helps its clients achieve tremendous returns via their online marketing efforts. Led by serial web entrepreneur and digital marketing expert, Ken Wisnefski, WebiMax has established itself as one of the most respected digital marketing firms worldwide. WebiMax is proud to provide solutions that positively impact clients ranging from early phase start-ups to Fortune 100 companies. With offices located in New Jersey, California, London and Sydney, WebiMax delivers results. For more information, visit us at WebiMax.com