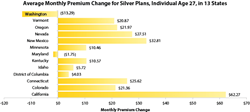 Washington, DC (PRWEB) October 27, 2015
2016 premiums are up substantially, overall, but the situation varies greatly by state and by plan, as health insurers have continued to announce last-minute decisions to enter or exit different state marketplaces, and last-minute market shifts resulting from the Centers for Medicare & Medicaid Services' (CMS) risk-corridor announcement. AIS research reveals that, on average, a 27-year-old individual purchasing a silver-level plan will pay $62.27 per month more in California than in 2015, while in nearby Washington that person will pay $13.29 less than in 2015. These findings were produced from data found in Health Insurance Exchange Database: 2016 Plans and Premiums, an annually updated, comprehensive, comparative database tracking insurer participation, premium rates and exchange enrollment on the public health insurance exchange marketplaces, now available from Atlantic Information Services, Inc. (AIS).
Featuring the latest available 2016 plans and premiums, the database — from the editors of AIS's Directory of Health Plans — allows market researchers to spot trends, and directly compare today's marketplaces to 2015 and 2014 plan offerings, and is already loaded with plans and premiums for 14 state-based exchanges. The database provides the latest information on who is offering what types of plans where; the status of the CMS Federally-facilitated Exchange (FFE) landscape file; last-minute decisions on entering and exiting state marketplaces; and hard-to-find data on plans offered on state-based exchanges, which are not included in the CMS FFE file.
The Health Insurance Exchange Database includes a CD filled with Excel spreadsheets, plus access to a website that will be updated with the latest premium rates as they become available.
For more information on Health Insurance Exchange Database: 2016 Plans and Premiums, including a full table of contents and a list of data fields, visit https://aishealth.com/marketplace/health-insurance-exchange-database. To access a free interactive demo of 2015 plan data, visit https://aishealthdata.com/pbx.
About Atlantic Information Services
Atlantic Information Services, Inc. (AIS) is a publishing and information company that has been serving the health care industry for more than 25 years. It develops highly targeted news, data and strategic information for managers in hospitals, health plans, medical group practices, pharmaceutical companies and other health care organizations. AIS products include print and electronic newsletters, websites, looseleafs, books, strategic reports, databases, webinars and conferences. Learn more at http://AISHealth.com.