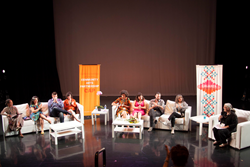 "CAP is like having your toes on both sides. CAP has one toe in the university and one in the real world." - Mark Bradford, Artist, MacArthur Fellow, and Co-Founder of Art + Practice
Valencia, CA (PRWEB) October 27, 2015
The 25th anniversary celebration of CAP at CalArts included a panel discussion with six talented alumni who taught in the CAP program while attending CalArts. The alumni included Sandy Rodriguez, a museum educator at the J. Paul Getty Museum; Sara Guerrero, founder of The Breath of Fire Latina Theater Ensemble; Isabelle Lutterodt, Director of the Municipal Art Gallery in Barnsdall Park; Jon Lapointe, Director of Communications at the Armory Center for the Arts; Francesca Penzani, CalArts Faculty School of Dance; Emily Hopkins, Executive Director of Side Street Projects; and Noah Harmon, bassist, teacher, and founding member of the Indie rock band Airborne Toxic Event. The panel was moderated by Nadine Rambeau, CAP Managing Director, and Glenna Avila, Artistic Director of CAP.
The panel was followed by a reception attended by hundreds including the President of CalArts Steven Lavine and his wife Janet Sternburg, CalArts Provost Jeannene Przyblyski, CAP Council member and founder of LA Educational Partnership Peggy Funkhouser, former James Irvine Foundation Program Officer John Orders, CalArts faculty members Marvin Tunney, Francesca Penzani, and more, CAP Partner Maria Jimenez-Torres, Executive Director of Plaza de la Raza, and many CAP Alumni, CAP youth participants, parents and families of the youth participants, and CalArts students.
Glenna Avila, Artistic Director of CAP and Wallis Annenberg Director of Youth Programs said, "It is quite joyful to be celebrating the 25th Anniversary of the CalArts Community Arts Partnership (CAP) program! For 25 years, the CAP program has collaboratively designed and implemented free arts programs for hundreds of thousands of Los Angeles youth offered in 60 diverse neighborhoods throughout Los Angeles County. Many of our participants have gone on to colleges, graduate schools, and brilliant careers in the arts and other fields!"
CalArts Alumnus Mark Bradford, Artist, MacArthur Fellow, and Co-Founder of Art + Practice stated, "CAP is like having your toes on both sides. CAP has one toe in the university and one in the real world."
Former CAP Instructor, CalArts Alumnus, and Actress, Simbi Kali said, "CAP is a mirror of how I began to learn in an after school program when I was in 5th grade. I started out as a dancer, and later on as an actor. And that's exactly what CAP is. CAP is all about the arts, and students and life. Bringing your life together with the arts to heal yourself, to be able to make deeper connections with yourself, and your community." Simbi Kali is best known for her role as Nina Campbell on the NBC sitcom 3rd Rock From The Sun. Both Mark Bradford and Simbi Kali taught in the CAP program while they were attending CalArts.
The award-winning CalArts Community Arts Partnership (CAP), a co-curricular program of the California Institute of the Arts (CalArts), offers free, after-school, summer, and school-based arts programs for youth ages 6-18 in every discipline taught at CalArts. Programs are offered at public schools, community centers and social service agencies, covering a thousand square mile radius across Los Angeles County. With classes led by a teaching corps of accomplished CalArts faculty, alumni, and student instructors, CAP participants learn to create original works of art and to experiment with prevailing conventions of artistic expression. CAP's success has served as a model for other arts education organizations locally and nationally. And the program has received numerous honors, including the National Arts and Humanities Youth Program Award, which recognizes exemplary programs that foster the creative and intellectual development of America's children.
Ranked as America's top college for students in the arts by Newsweek/The Daily Beast, California Institute of the Arts has set he pace for educating professional artists since 1970. Offering rigorous undergraduate and graduate degree programs through six schools – Art, Critical Studies, Dance, Film/Video, Music, and Theater – CalArts has championed creative excellence, critical reflection, and the development of new forms and expressions. As successive generations of faculty and alumni have helped shape the landscape of contemporary arts, the Institution envisioned by Walt Disney encompasses a vibrant, eclectic community with global reach, inviting experimentation, independent inquiry, and active collaboration and exchange among artists, artistic disciplines and cultural traditions.