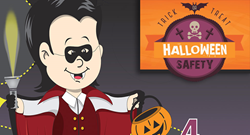 "Overall it has been a late season and we are beginning to see some uptick in sales since October 20th . But it has not been a remarkable season thus far."
Edison, NJ (PRWEB) October 27, 2015
Given last month's reported slowdown in general retail sales – Could this year's Halloween sales be a leading indicator of what is in store for the Christmas & Holiday Seasons?
As an important economic indicator, Holiday Shopping Season, is almost upon us, there are early markers which may portend to its success. Halloween, which has become big business over the past two decades, is an early market indicator of consumer shopping in November and December.
"To date, Halloween internet sales have been flat in comparison to last year," comments, Erik Mandell, CEO of Costume SuperCenter. "Overall, it has been a late season and we are beginning to see some uptick in sales since October 20th, but, thus far, the season has not been remarkable."
There are some key indicators seen in the 2015 Halloween Season, though, that may shine a light on the upcoming holiday shopping season:

National Retail Federation is reporting that Halloween Sales are down versus last year. This will most likely be mirrored in holiday shopping – "At Costume SuperCenter this has been a late season - sales have been somewhat flat and we have just begun to see a pickup," remarks Mandell.
Shoppers have been Frugal this Season – "In general, the Halloween industry has seen lower average order values this season," comments Mandell. "It appears that this year's Halloween shopper is being more careful with their purchases than in years past." He continues, "On average we have seen smaller purchases, fewer accessories and costume extras purchased this year."
Online Sales outshine Brick and Mortar Sales – "In addition to online retail, we have brick and mortar retail stores which have seen lower levels of shopping in comparison to our websites this season." Costume SuperCenter's website has outperformed their brick and mortar stores by about 7%.
While nobody can predict the future, Costume SuperCenter's retail results this Halloween may provide important clues on what we can expect in the upcoming Christmas retail season. Will the soft retail sales and a shift toward more online and less brick and mortar sales this Halloween carry forward to the larger retail market? That is the question everyone will be asking as Black Friday arrives exactly one month from today.
For more information or to set up an interview with Erik Mandell please contact Shauna Burke, shauna(at)costumesupercenter(dot)com