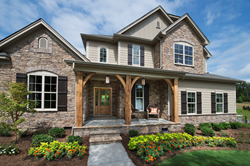 Charlotte, NC (PRWEB) October 28, 2015
The Parade of Homes Charlotte 2015 awarded Shea Homes of Charlotte the Gold and Silver Award for two of their model homes.
The Home Builders Association of Charlotte's annual Parade of Homes Awards presented 2015's winners on October 13, 2015 at Byron's South End. The Parade of Homes is the region's largest open-house event, where a judge's panel of local real estate agents tour builders' entries of fully decorated model homes. Homes are categorized according to price, and winners must meet standards of environmentally responsible, quality-built homes. Shea Homes entered three model homes, the Grayson, Redwood, and Providence; two won awards.
The Providence model won the Gold Award in the $900,000 to $1,000,000 category. The blonde floors and bright colors that flow throughout emphasize the plan's open-floor concept. Its unique features include a hidden pantry, a large wet bar, first and second floor laundry, and luxury tile flown in from California.
The Redwood model took home the Silver Award in the $500,000-$600,000 category. The Redwood model features a timeless floorplan with a dramatic foyer that is open to the second floor and a large, main-floor master suite. The model is decorated with warm, natural tones and complementary accents.
Michele Scott, Senior Vice President of Sales and Marketing, and Sarah McKinnon, Marketing Project Coordinator, accepted the awards on behalf of Shea Homes. Sarah noted, "We are very excited to be a part of the Parade of Homes and to be recognized for the care and attention to detail that we not only put into our models, but into all of our homes."
Shea Homes has ten neighborhoods in the Charlotte area, each offering multiple unique floorplans and elevations. Visit http://www.sheahomes.com/charlotte to explore the neighborhoods, floorplans, and photos of the models.
About Shea Homes
Shea Homes Charlotte is a division of Shea Homes Limited Partnership, an independent member of the Shea family of companies; Shea Homes is the oldest family‐owned homebuilder in the United States. Shea Homes builds new homes in California, Arizona, Nevada, Colorado, Washington, North Carolina, South Carolina, Texas, Virginia and Florida. With choices to suit homeowners in every stage of life, Shea Homes offers new homes ranging from affordably priced traditional single-family homes to magnificent luxury residences. Shea Homes has been recognized as a leader in customer satisfaction with a reputation for design, quality and service. For more information about Shea Homes and its communities, visit SheaHomes.com.