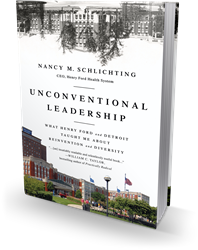 Unconventional leadership... requires courage and a willingness to commit to difficult change.
Boston, MA (PRWEB) November 24, 2015
Bibliomotion is thrilled to announce the launch of UNCONVENTIONAL LEADERSHIP: What Henry Ford and Detroit Taught Me about Reinvention and Diversity by Nancy M. Schlichting, Chief Executive Officer of Henry Ford Health System (November 24, 2015).
Watching people suffer, with hospitals failing to adequately address the needs of patients and their families, shaped my desire to improve the system of care. I believed that I could do better.

Nancy M. Schlichting, Unconventional Leadership
At a very young age, Nancy Schlichting was driven to change health care for the better. She has dedicated her life and career to the transformation of healthcare from the helm of leadership and operations as chief executive at Henry Ford Health System, and prior to that as a leader at hospitals and health organizations across the United States. In the exciting and panoramic backdrop of Henry Ford and Detroit, Schlichting has drawn from Ford's legacy of invention and innovation combined to restore and renew a city in deep decline.
This year, as Henry Ford Health System celebrates 100 years of innovation, Schlichting is recognized as the pivotal force behind the hospital's growth, success, and dedication to diversity. She has looked outside the traditional healthcare sector for business models and ideas that could be adapted and transplanted all across healthcare.
"Unconventional leadership is by far more fun and exhilarating than the traditional route, but it also requires courage and a willingness to commit to difficult change," she writes.
In UNCONVENTIONAL LEADERSHIP: What Henry Ford and Detroit Taught Me about Reinvention and Diversity (Bibliomotion, Inc.; October 27, 2015), Schlichting shares with readers her nontraditional path toward driving change. Over the past thirty-five years, she has succeeded in putting people first, and confronting the reality of challenges put before her. Bby applying the current best practices in business, as opposed to the outdated modes common within health care, Schlichting has been able to create not only enormous growth for HFHS but also has deeply affected the culture there. She also discusses the challenges she had to overcome as a gay woman in a position of leadership, including being anonymously outed and passed over for promotion expressly because of her sexual orientation.
"Being out in the open for twenty-five years has made me a better leader, intent upon fostering a safe and comfortable environment where people can bring their unique gifts and true selves to work each day," she writes.
Drawing on her experience and advice as a leader in healthcare, UNCONVENTIONAL LEADERSHIP provides readers with eight guiding principles to apply in their lives, not only as business builders, and as women and men at work, but also across the wider spectrum of situations we all face as employees, parents, and citizens:
● Risk Rejection and Be Bold in Your Career
● Learn to Turn It Around
● Use Quality to Achieve High Performance
● Find the Disruptors in Your Organization—and Listen to Them
● Make a Large Company Feel Small
● Be Different: the Strength of Diversity
● Partner for Renewal
● Face the Future
Schlichting's principles of leadership will inspire readers to create change in spite of challenges, to have courage in the face of adversity, and to take the unconventional path when no one else will.
"I believe in change and the power of everyday people to transform any situation for the better."

Nancy M. Schlichting, Unconventional Leadership
Nancy Schlichting is Chief Executive Officer of Henry Ford Health System (HFHS), a nationally recognized $5 billion health care organization with 23,000 employees and recipient of the 2011 Malcolm Baldrige National Quality Award, 2011 John M. Eisenberg Patient Safety Quality Award, and 2004 Foster G. McGaw Award. She is credited with leading the health system through a dramatic financial turnaround and for award-winning patient safety, customer service and diversity initiatives.
Schlichting joined Henry Ford Health System in 1998 and in 2003 was named President and CEO. Her vision is to create tremendous clinical excellence, a fabulous patient experience, and a great environment for all health care professionals to advance their careers. Schlichting believes that great people are the key to providing great health care, and therefore, is committed to giving her employees everything they need to become the best possible health care professionals.
A hallmark of Schlichting's career is working with community, legislative and business leaders to improve health services while providing affordable care. Nancy serves on numerous community, professional, and corporate boards that reflect both her professional and personal interests. She is a member of The Kresge Foundation Board, Walgreen Boots Alliance Board, Federal Bank of Chicago Board – Detroit Branch, Detroit Regional Chamber Board, Citizen's Research Council of Michigan, Detroit Economic Club Board and Downtown Detroit Partnership Board. Nancy is also a Fellow of the American College of Healthcare Executives and the International Women's Forum.
Nancy has an exceptional ability to balance her service to the community with her own exemplary career that has resulted in many forms of recognition over the years. Among her most recent honors: NCHL Gail L. Warden Leadership Excellence award, ACHE Senior-Level Healthcare Executive Regent's Award, AHA/HRET 2014 TRUST Award, Becker's Hospital Review "40 of the Smartest People in Healthcare-2014", Modern Healthcare "100 Most Powerful People in Healthcare-2014" (named for the eighth time), Modern Healthcare "Top 25 Women in Healthcare -2013" (named for the fourth time), Crain's Detroit Business "2012 Newsmaker of the Year", and HealthLeaders Media "20 People Who Make Healthcare Better-2012.
Schlichting received her A.B. from Duke University and her M.B.A. from Cornell University. She and her family reside in Bloomfield Township, Michigan. She has also been the recipient of honorary doctoral degrees from Walsh College Central Michigan University and Eastern Michigan University.
An Interview with Nancy M. Schlichting, Author of Unconventional Leadership
Q: How have Henry Ford and Detroit shaped your leadership philosophy?
It's fitting to ask about both the institution and its city because Henry Ford and Detroit reflect each other in so many ways. Both are compassionate and tough, resilient, forward-looking, hardworking, innovative – the comparisons could go on.
When you're in Detroit, you have to lead with a lot of heart, and part of that is finding common ground in competitive, even rancorous, situations. I've found that doing this can transcend all kinds of barriers. For example, every few months I've gotten together with a group of fellow health care CEOs from across southeast Michigan to talk about ways to work together. We've done this for years. Although we're competitors, we share ideas and even resources because our needs overlap in many ways. We always find this common ground, which gives us reasons to collaborate for the common good.
Detroit is not always an easy place to be, so its rewards are that much greater. Even as Detroit's population shrank, Henry Ford grew, and I credit that to our historical, sustained connection to the community. We have become a driver of social and economic revitalization in the region through community partnerships and initiatives because other people care about Detroit's success as much as we do.
Q: In Chapter 3, you introduce the "7 Pillars of Performance." What are they and how can they be used to measure success?
These pillars support our mission and vision as an integrated health delivery system: to improve human life through excellence in both the science and the art of health care, always with the goal of treating each patient just as we want for our families and ourselves. They also support our core values of respect for people, high performance, learning and continuous improvement, and a social conscience.
These are the pillars and their strategic goals:
1. People – We will be the employer of choice.
2. Service – Service to our customers will be best-in-class among U.S. health care organizations through a consistent Henry Ford Experience.
3. Quality & Safety – We will be the organization that others emulate to learn new clinical innovations and best practices.
4. Growth – We will be a dominant player in each of our chosen markets and grow volume while maintaining an efficient cost structure.
5. Research & Education – We will be recognized as the leading academic medical center that attracts the highest caliber of students and researchers.
6. Community – We will be recognized as a national and state leader in community health advocacy and involvement.
7. Finance – We will be financially strong.
Q: What are some specific ways you succeeded in making HFHS, a company of more than 23,000 employees, feel smaller and more personal?
In part, by being fully present for everyone in the organization. As I walk the halls, people at all levels approach me and stop to chat – security guards and nurses, cashiers and our busiest physicians, nurses aide and technicians – I talk with everyone and have gotten to know many, many employees this way. Doctors, I should point out, want to be loved and respected for the crucial work they do, just like everyone else. So I talk with them all the time, cultivating our relationship, and take what they tell me to heart.
To me, being fully present includes being easily accessible, making it easy for people to reach out to me. I have the shortest email address in the organization, and everyone knows what it is. I also started an interactive blog not long ago, where we ask people to share their stories or ideas on particular topics. This encourages a give-and-take dialog.
I also connect with our people by personally recognizing their contributions. Henry Ford has many awards and employee recognition events that have existed for decades. I attend them all. My favorite is the annual dinner honoring employees who have been with the organization for 15-plus years. We always make this a major event no matter any cost-cutting or organizational changes that may occur at the time. I'd pay for the night myself if needed. That's how much it means to employees and their families.
Q: What advice can you give anyone who wants to move up the leadership ladder, but faces personal obstacles or even discrimination at work?
Here's what has worked for me:
1. Be a Student of Leadership: Worry less about money and specific titles and more about landing in a position where you will learn as much as possible and work with great people.
2. Get Out of Your Comfort Zone: Doing what is difficult means taking chances. Move out of your comfort zone to become proficient in the skills that are daunting to you.
3. Surround Yourself with Supporters: Doing what's difficult becomes a little easier with a coalition of people around you who have a stake in your success.
4. Keep Your Eyes on Values: The last thing that has enabled me to break free from cultural norms and do what is different is making key decisions based on values. Making career choices, in particular, with values as a guide creates a solid foundation to build on. Even if you fail at a certain task, something substantial stays intact.
Q: You've committed much of your career to bringing diversity to the health care industry. How does having a diverse team help to better serve the needs of the community and impact the bottom line?
We recognize that culturally customized health care is an important part of patient satisfaction. Cultural awareness and education are integral dimensions in providing quality health care to our patients. This is accomplished by providing care in a way that values and recognizes individualism and heritage as the foundations of our culture.
Diversity has many meanings and definitions, but at Henry Ford we see it as a way to value the unique talents of our employees. Our commitment to diversity revolves around creating a culture of inclusion, where all employees have an opportunity for advancement, are treated with respect and dignity and can contribute their diversity of thought, work style, background and experiences.
Our goal is to create a culture of professional growth, built on positive relationships, while maximizing each employee's potential. We do this by appreciating our diversity on all levels within the organization. Diversity and inclusion are considered in all of our decisions and are the key reasons why we're nationally recognized as a top diversity employer for all of the nursing, pharmaceutical and other health care jobs available in Michigan.
Praise for Unconventional Leadership
"The defining challenge for leaders today is to reimagine what's possible in their fields—to do what other organizations can't or won't do, and thus get to the future first. That's what Nancy Schlichting has done throughout her career, and with this insatiably readable and relentlessly useful book, she shows you how to do it too. Nancy is one of the most inspiring change agents I've ever met, an unconventional leader whose uncommon sense can teach all of us about where leadership itself is going." – William C. Taylor, cofounder and founding editor, Fast Company; author of Practically Radical
"In the early 20th century Henry Ford took over a struggling hospital in Detroit and turned it into a world-class medical center. In the early 21st century Nancy Schlichting repeated the process at the same hospital, using the same innovative and unconventional leadership methods as my great-grandfather. Unconventional Leadership: What Henry Ford and Detroit Taught Me about Reinvention and Diversity tells the story of how Nancy turned around the Henry Ford Hospital and Health System. Under her leadership, in the middle of a global recession and the first bankruptcy of a major U.S. city, the hospital flourished and earned a worldwide reputation for excellence that culminated in the coveted Malcolm Baldrige Quality Award. Leaders and would-be leaders would do well to read this book and apply its lessons." – Bill Ford, Executive Chairman, Ford Motor Company
"Our Plan to Win at McDonald's was all about making the business better, not just bigger. Nancy Schlichting has done the same with amazing results throughout her impressive career. This book deserves wide readership for its inspirational look at how to remaster your leadership practices with an eye to the quality of the company, instead of the bottom line." – Jim Skinner, former CEO, McDonald's
"Nancy Schlichting is an authentic, unconventional and extremely successful leader. Her willingness to take smart risks and invest in people consistently transformed healthcare systems. Moreover, her grit and candor are inspiring. A must read for anyone interested in leadership." – Risa Lavizzo-Mourey, president and CEO, Robert Wood Johnson Foundation
"Sometimes, leading a team to victory isn't about taking the traditional path. Instead, it can take imagination, risk, and the ability to turn obstacles into opportunities. Nancy Schlichting has done this both personally and professionally. I strongly recommend this book to any leader looking to take their team to the next level." – Mike "Coach K" Krzyzewski, Head Coach of Men's Basketball at Duke University
"In the 21st century, a different type of leadership is required to achieve change that is truly transformational. Leaders need to be flexible, innovative and willing to challenge the status quo to make meaningful progress on increasing the accessibility and affordability of health care. In her book about unconventional leadership, Nancy tells the story of her journey, and outlines what we need to do to achieve transformative change, on a personal and professional level." – Bernard J. Tyson, Chairman and CEO, Kaiser Permanente
"The Ford Foundation proudly carries on a tradition of service and leadership that Henry Ford began almost 80 years ago. I have rarely seen that tradition better represented or articulated than in Unconventional Leadership. Schlichting demonstrates that leadership practices can be thoughtful, positive, and courageous without sacrificing effectiveness. This book is a must-read for any leader interested in managing and motivating people for high performance and impact!" – Darren Walker, president, Ford Foundation
"Nancy's blend of compassion, bravery, and practicality will give all leaders, current and aspiring, the confidence to find and pursue their own form of Unconventional Leadership. Her strategies will help you to remain resilient in the face of adversity, to the benefit of both yourself and your company." – Ginger Graham, president and CEO, Two Trees Consulting
Bibliomotion is a book publishing house designed for the new publishing landscape. While many publishers work to retrofit old processes for new realities, Bibliomotion was founded by book-industry veterans who believe the best approach is a fresh one – one that focuses on empowering authors and serving readers above all else. Moving away from the top-down model that has dominated the publishing process for years, we give each member of the team – including the author – a seat at the table from the very beginning and in doing so, work side-by-side to launch and sell the best content possible, making it available in a variety of forms.