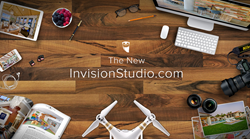 "Everyone hates the pricing run around more than rush hour traffic. We decided to build the custom quote tool to be transparent with our pricing and to put the control into our client's hands." said CEO Jason Sievert
Seattle, WA (PRWEB) October 27, 2015
Invision Studio, the country's premier source for 360 Virtual Tour Services, Property Photography, and Aerial Photography Services has proudly announced the launch of a completely redesigned website, invisionstudio.com. The entire overhaul took nearly six months, with many of the pages and features of the site being restyled several times to ensure an attractive, user friendly experience. As a photography company, it was designed to be rich with high quality images and media, yet still remain clean and simple. Most importantly, it was made to look and function just as seamlessly on a mobile device as it does on a full size web browser, as most of todays web browsing is done on a cell phone or tablet.
The most notable feature is their brand new Custom Quote Builder. Gone are the days of unpublished rates or having to call for pricing only to haggle with a salesman. Invision Studio developed a careful algorithm that can accurately create a custom estimate for any client, lightning fast. They programmed the formula into a clean and simple tool; with a few clicks the user can get a surprisingly accurate estimate and even toggle with options and numbers to fit the project within their budget, all within a matter of seconds.
"Everyone hates the pricing runaround more than rush hour traffic. We decided to build the custom quote tool to be transparent with our pricing and to put the control into our client's hands. Now they can get exactly what they want, for a price that fits into their budget. Most importantly, we made it sexy, simple, and quick so that they can get back to the more important things in life, like pizza and puppies," said Jason Sievert – CEO of Invision Studio.
The new Industry Pages are the most significant addition to the Website. From small businesses and Real Estate to the largest companies in the world, Invision Studio works with industries of all shapes and sizes, each unique in their own way. These pages were created to provide proprietary answers and information to every client and their specific industry. Each page features samples, benefits, average costs, payoff quotes, process overviews, turnaround times, and FAQ's all tailored to the potential client's specific industry.
"In the past, providing the customer with the answers and information they needed took days and tons of back and forth. We wanted create one place for customers to quickly gather all of the information they needed to make an educated decision. As with the quote builder, these pages save time, make the process easier, and put the control into the customer's hands," said Christopher Lara – Marketing Director for Invision Studio
Invision Studio listened to their customer's feedback and designed a comprehensive Gallery page while simplifying their service descriptions through sleek, product sliders that give brief snapshot of each service. Additionally, they now offer many ways for their users to stay connected. The site features live yelp reviews and easier ways to get in touch and stay in touch though 1-click contact options and live social media feeds. A completely redesigned Blog page offers a more robust, user-friendly experience with tools like 1 click sharing, tweetable quotes, tag filtering, and an easy search tool.
Above all, the most prominent add-on is the introduction of Aerial Photography Services. Invision Studio is now providing a new dimension of imaging to an already well-established foundation of interactive 360 tours and Property Photography Services. Drone footage is the next step in the evolution and growth of Invision Studio. This cutting edge technology features the most state-of-the-art cameras to capture aerial imaging that will soon become an industry standard. Invision Studio's utilization of drone footage is bringing the future of digital imaging to your doorstep.
About Invision Studio
Invision Studio is a premier provider of ultra-high resolution 360 virtual tours, architectural photography, and aerial drone photography services. The company is known for its walkthrough style - full screen - high dynamic resolution virtual tours. Invision Studio centralizes its headquarters in Seattle, Washington. For more information, visit their site at: http://invisionstudio.com/
Company Contacts:
Invision Studio
Jason Sievert
(619)663-8687
Jason(at)InvisionStudio(dot)com
Agency Contact:
Creative Legacy Agency
Christopher Lara
+1-949-283-2249
TheCreativeLegacyAgency(at)gmail(dot)com