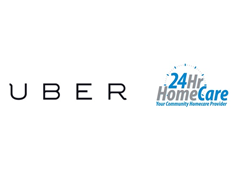 "Uber strives to create transportation options that fit everyone's needs, and we are proud to partner with 24Hr HomeCare to help riders needing an extra hand to request safe and reliable rides at the tap of a button."
Los Angeles, CA (PRWEB) October 27, 2015
24Hr HomeCare, in an effort to better meet the needs of Los Angeles area hospitals and healthcare community, has collaborated with Uber to provide a solution to the ongoing challenge of safely and efficiently discharging patients from hospital to home. Driver-partners with uberASSIST are specifically trained by the Open Doors Organization to assist riders into vehicles and can accommodate folding wheelchairs, walkers, and scooters.
Hospitals historically have had a "throughput" or "length of stay" challenge, or difficulty to ensure a safe and effective discharge to home when patients did not have a network of support to assist with the transition home. Hospitals and patients have frequently had to spend significant dollars on specialized transportation options or wait until a family member, friend, or other individual was available to ensure a safe discharge home and care for the patient. Due to the delay in discharge, hospital resources continue to be utilized on patients with no medical need to be in the hospital, but hospitals are not reimbursed for this unnecessary time.
The collaboration with Uber will allow 24Hr HomeCare, already known for its rapid response in providing care in the home, to ensure a more efficient ability to assist patients home as well as receive care in the home. 24Hr HomeCare's programs will allow patients returning home to receive additional support within hours of the initial request as well for the additional days of the recovery period after a hospitalization, helping reduce unnecessary hospital readmissions. Hospitals are seeking additional service lines as a result of the affordable care acts efforts in reducing hospitalizations.
Uber spokesperson Michael Amodeo said that "Uber strives to create transportation options that fit everyone's needs, and we are proud to partner with 24Hr HomeCare to help riders needing an extra hand to request safe and reliable rides at the tap of a button."
Uber is evolving the way the world moves. By seamlessly connecting riders to drivers through its apps, Uber makes cities more accessible, opening up more possibilities for riders and more business for drivers. From its founding in 2009 to our launches in hundreds of cities today, Uber's rapidly expanding global presence continues to bring people and their cities closer.
24Hr HomeCare is an award winning Los Angeles-based company that provides high-quality, professional caregiving services to seniors and the disabled, allowing them to continue full, active and healthy lifestyles. Founded by David Allerby, Tyner Brenneman-Slay, and Ryan Iwamoto in 2008, 24Hr HomeCare has expanded to thirteen locations throughout California, Arizona, and Texas, hiring over 3,000 employees. Services include assistance with personal care, meal preparation, medication reminders, light housekeeping, and transportation services. In 2014, 24Hr HomeCare was ranked by the Los Angeles Business Journal as the #29 Fastest Growing Private Company in America and by Forbes Magazine as the #24 Most Promising Company in America. 24Hr HomeCare was also named as the 2015 Best In-Home Care Company by the LA Daily News.