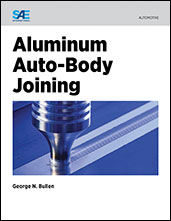 SAE International announces its new book, Aluminum Auto-Body Joining, available now on the SAE International website.
WARRENDALE, Pa. (PRWEB) October 27, 2015
SAE International announces its new book, Aluminum Auto-Body Joining, available now on the SAE International website.
Fusing aluminum in a multi-material lightweight vehicle is presented via studies on joining dissimilar materials, joining methods, and the performance of the joined materials. The use of aluminum offers a material that embodies properties to meet new standards as the automotive industry continues to pursue improvements in fuel efficiency and emissions. Aluminum's strength, light weight, and corrosion resistance offers manufacturers a material alternative to steel and an additional material, which has long been known in the industry, to be employed in automotive construction.
Production of strong, lightweight structures will contribute significantly to automobile manufacturers meeting mandated fuel economy standards, as well as customer preferences for utility, comfort, and safety. Materials selection and application are critical components to the design of lightweight vehicles. Joining technologies and the relationship of the materials that are joined to meet the design and assembly requirements are presented in this work and also frame the foundation for innovative joining methods for the next generation of lightweight vehicles.
Topics of technical interest included in Aluminum Auto-Body Joining include:

Forming
Galvanic Corrosion
Welding, Fastening, Bonding
Maximizing Weight Benefits
The book is authored by George Nicholas Bullen.
Book details:
Published By: SAE International
Binding: Softbound
Product Code: PT-173
ISBN: 978-0-7680-8252-4
Price: $95.00 - SAE International Members save up to 20% off list price.
For more information, including free front and back matter, or to order Aluminum Auto-Body Joining, visit http://books.sae.org/pt-173/.
To request an electronic review copy of the book, email pr(at)sae(dot)org. Forward published reviews to Shawn Andreassi at pr(at)sae(dot)org or SAE International, 400 Commonwealth Dr., Warrendale PA, 15096-0001, or to receive a print copy of the book or another equivalent SAE International book.
SAE International is a global association committed to being the ultimate knowledge source for the engineering profession. By uniting over 137,000 engineers and technical experts, we drive knowledge and expertise across a broad spectrum of industries. We act on two priorities: encouraging a lifetime of learning for mobility engineering professionals and setting the standards for industry engineering. We strive for a better world through the work of our charitable arm, the SAE Foundation, which helps fund programs like A World in Motion® and the Collegiate Design Series™.