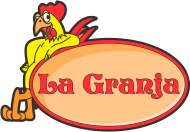 Palm Beach Gardens, FL (PRWEB) October 27, 2015
La Granja's Northlake Location in Palm Beach Gardens is opens a full-service liquor bar. In addition to their delicious, freshly-made Peruvian food, this location will also offer their patrons a wide selection of alcoholic drinks, beer and wine. That address is 3301 North Lake Blvd. Palm Beach Garden, FL 33410.
La Granja Restaurants was established in 1993 on the island of Aruba. They expanded in 1995 to open many locations in Florida, including Palm Beach, Miami, Orlando, Winter Park, Boynton Beach, Boca Raton and more. All locations offer the same delicious cuisine in a friendly family-oriented environment.
La Granja Restaurants use their own unique recipe for preparing their delicious and flavorful Pollo a la Brasa. Their menu offers the whole, half or quarter chicken combined with rice and beans, or boneless chicken breast with rice and beans, or chicken wings with fries. The restaurants also offer beef, pork and seafood dishes and sandwiches, all prepared in their unique Peruvian style. All meals are prepared fresh and are very affordable.
The Bartra brothers, the founders of La Granja Restaurants, have won numerous awards and recognitions and have been featured in newspapers and appeared on TV shows. The Bartra brothers attribute their success to "great teamwork, great customer service, positive attitude and hard work."
La Granja also supports the South Florida community by partnering with grass roots youth organizations like ASPIRA, honoring veterans, and offering scholarships to Florida residents of Hispanic and Latino descent to Palm Beach Community College.
ENDS
For further information, please contact:
La Granja Corporate Office
3907 NW 49th Street Tamarac, Fl 33309
Phone: (954) 968-7988
info(at)lagranjarestaurants(dot)com
http://lagranjarestaurants.com/