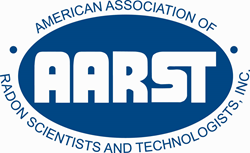 "His leadership on radon awareness is an example of how real estate professionals play an important role in radon risk reduction in the United States."
Fltecher, North Carolina (PRWEB) October 28, 2015
The American Association of Radon Scientists and Technologists (AARST) awarded its first "National" Healthy Radon Homes Leadership Award honoring a real estate professional who has improved healthy living by communicating radon risk reduction messages to his clients, consumers and fellow Realtors.
The first national award was presented to Realtor® Kerry Kidwell (ABR, AHWD, CNE, GREEN, GRI, ePRO, DREI) of Heyworth, Illinois during the association's annual business meeting at the 29th International Radon Symposium on September 22, 2015,
In making the award, AARST President Shawn Price noted Kerry's achievements.
"Kerry Kidwell's work has saved lives and his leadership on radon awareness is an example of how real estate professionals play an important role in risk reduction in the United States."
"Properly informed professionals," said Price, "make radon testing and mitigation an easy, economical solution that does not interfere with the home sale."
Radon is an odorless, tasteless gas caused by the breakdown of uranium in the soil. Over time, radon gas becomes trapped in buildings and can be a health threat. Radon gas exposure in a home or workplace increases the risk of radon-related lung cancer. Radon gas is the number one cause of lung cancer among individuals who have never smoked. Radon is the leading cause of all environmental cancer deaths and the second leading cause of lung cancer in the United States, which is estimated to kill 21,000 Americans each year.
Kidwell has been in real estate since 1979 and is currently licensed with Berkshire Hathaway Home Services- Snyder Real Estate in Bloomington, IL. While Kidwell doesn't list and sell anymore, he continues his real estate business today as a certified trainer for real estate agents.
AARST's national award follows criteria and qualifications similar to the AARST regional award for Healthy Radon Homes Leadership Award. AARST Healthy Radon Homes Awards provide prestigious recognition of real estate professionals who are working diligently to ensure their clients are aware of healthy homes.
Kidwell received the Midwest AARST Chapter Award for excellence in March, one of four regional awards made by AARST chapters this year and this made Kerry eligible for the national award. The AARST awards committee found that Kerry exemplifies professional compassion and passion in regards to increasing the public's awareness for the need to test and fix this deadly, radioactive gas.
A member of Real Estate Educators Association (REEA), and a certified trainer, Kidwell attended the initial EPA train-the-trainer session in Atlanta, GA to be able to teach a radon education class for Realtors®. That initial class was written with a grant from the Federal EPA for REEA. Kidwell brought the class back to Illinois and had it licensed as a continuing education class for real estate agents.
Over the years, Kerry's class has been updated to include Illinois radon disclosure and buyer notification rule. As well as a having a home study version adapted from the classroom version, Kerry has taught the class to several thousand students.
While Kidwell focuses much attention to educating fellow real estate colleagues, he also dedicates his time to presenting radon awareness at public venues including: 4-H meetings, community outreach events, Illinois radon symposiums, the USEPA Region 5 Radon Stakeholder Meetings, home shows, and at the 29th AARST International Radon Symposium. He has been active in radon education with the McLean County Radon Awareness group for many years, introducing successful community initiatives, and volunteering at the booth at the local home show every year for the past 15 years.
"Kerry deserves this recognition for excellent work done over many years," said Price.
AARST is a nonprofit, professional organization of members who are dedicated to the highest standard of excellence and ethical performance of radon measurement, radon mitigation and transfer of radon information for the benefit of members, consumers and the public at large. The association is an ANSI accredited Standards Developer and also administers the National Radon Proficiency Program which certifies radon professionals and laboratories.