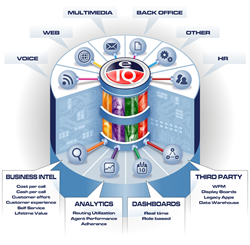 Houston, TX (PRWEB) October 28, 2015
ethosIQ™is announcing that as of 2015 they had reached a milestone of monitoring over 100,000 agents by Customer Engagement Platform™ (CEP).
CEP collects multi channel interaction and application data - from vendors like Cisco, Avaya, Genesys, NICE and Aspect - across multiple systems, providing a single, complete data source for ethosAnalytics to access and display information in useful ways.

Data collection made easy. A data collection application that is capable of connecting to virtually unlimited number of sources. The architecture is designed to allow multiple connections to multiple systems, regardless of manufacturer. A perfect solution for enabling Compliance Management, Fraud Detection and enabling Preference Management.
Data correlation. CEP collects data and creates a unique capability across multiple channels to include voice calls as described above, coupled with kiosk, retail point of sales, handheld devices, web sites, email, chat, and SMS.
Single agent ID. Data collection designed to connect multiple manufacturers products and the associated Agent IDs, transforming it into a single customized identifier. This feature is typically used by third party products like NICE, a WFM (WorkForce Management) provider, reducing the cost of multiple inputs like ACD IDs.
Real-time output. Third party vendors are not required to make any programming or source code changes whatsoever. ethosIQ performs all the heavy lifting while adhering to the manufacturers preferred format. This allows the customer to save time on deployment and huge cost saving / reductions in the deployment and day two support.
"We provide real-time processing of data and analytic to include data visualization tools to convert processed data into actionable insights" said Steven Langley, CTO of ethosIQ™, LLC. "
These customers are using a Pay Per Use Model via a cloud and perpetual purchase model that is designed to fit their specific financial needs.
"ethosIQ's unique Pay Per Use and Cloud solutions accelerate return on net assets for our clients. Competition for customers is as fierce as it has ever been and the requirements for responsiveness, availability and speed have never been higher. CEP has created the ideal solution to meet these evolving business demands." said Scott Walker, CEO of ethosIQ™, LLC.
About ethosIQ, LLC
Our vision is to help businesses of any size to deliver the best possible customer experience.
Dating back to the year 2000, businesses from across industries and around the world have trusted ethosIQ to help them reduce call center costs and increase revenue streams while improving the customer experience.
ethosIQ blends our customer engagement products and services with market-leading software products to provide end-to-end solutions. All our partners are carefully chosen to ensure seamless integration, robust functionality, an exceptional cost of ownership.
Some providers lock you into their product. Not ethosIQ. We listen, evaluate and then recommend. Our practitioners can turn your operation into a heroic center of excellence by optimizing the systems you have and providing the road map to your next generation contact center.
For more information about ethosIQ, visit ethosIQ.com