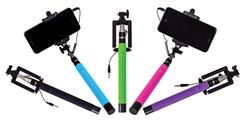 People (Magazine) rated the 'SelfieOnAStick.com Wired' model a "Top selfie perfecting beauty product."
New York, NY (PRWEB) October 30, 2015
Selfie On A Stick LLC's http://www.selfieonastick.com CEO, Jacqueline Verdier, recently spoke with Wired about the competitive and evolving landscape of the selfie stick market. As writer Molly McHugh highlights, "Every selfie stick is not the same. They may look similar, but the category is remarkably diverse." Verdier says, "It's important for consumers to know that SelfieOnAStick.com is a trusted selfie stick brand and our most popular model has been recognized as a top tech and beauty accessory."
In October 2015, Adeline Duff of People rated the "SelfieOnAStick.com Wired" model a "Top Selfie perfecting beauty product" http://www.peoplestylewatch.com/2015/10/07/photo-gallery/3149316-selfie-beauty-products-marc-jacobs-beauty#2015/10/05/photo/no-touts-selfie-stick-selfie-beauty-gallery-3148561. Roxanne Robinson of WWD rated the "SelfieOnAStick.com Wired" model a back to school 2015 must have accessory saying, "These colorful tech accessories stand out at the bus stop, in the library and during after-school activities." http://wwd.com/accessories-news/leather-goods/back-to-school-2015-tech-accessories-10203726/
Consumers interested in learning more about how to use a selfie stick can visit SelfieOnAStick.com and the official social media pages including Facebook @SelfieOnAStickOfficial, Instagram @SelfieOnAStick, and Twitter @SelfieOnAStick
About Selfie On A Stick LLC & SelfieOnAStick.com
Founded in New York City, SelfieOnAStick.com selfie sticks are quickly catching on as the hottest accessory for taking the perfect selfie. Selfie On A Stick LLC has received attention from national media including Good Morning America, People, Wired, and CNN, and can be found in national retailers coast to coast and on SelfieOnAStick.com. All Selfie On A Stick selfie stick models can be customized to suit personal and professional taste.