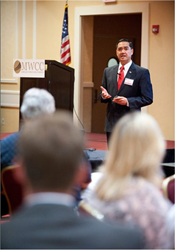 Everyone should want government to be efficient and effective. Lean Government is proven way to get there.
Baltimore, Maryland (PRWEB) October 27, 2015
A two-day conference on November 4-5 will introduce attendees to new ways of improving government performance and decreasing cost. The conference will offer strategies and case study examples to help state, county, and local governments in Maryland increase speed and responsiveness, improve service, and meet difficult budget challenges.
"For over half a century, the private sector has been using a highly effective improvement technique, called 'lean'," explains Jeff Fuchs, Executive Director of the Maryland World Class Consortia (MWCC), and conference organizer.
The lean production was first pioneered by Toyota, but it is used today by leading private sector companies, including Boeing, Herman Miller, Cleveland Clinic, Starbucks, and many others. Lean involves employees in continuous improvement activities that reduce waste and streamline work, making them simpler and more hassle-free. All this ultimately saves money and delivers better value for customers.
For about a decade, governments around the country started to experiment with lean in government. These early experiments delivered positive results. Today, almost two dozen U.S. states have launched some type of lean government program. Many federal government agencies have strong lean programs, and all four branches of the military have active lean programs. Pilot projects have begun in several government jurisdictions across Maryland with similar positive results.
Fuchs commented on how newcomers can misinterpret the meaning of "lean". "'Lean' does not mean weak or downsized. It is more about becoming more efficient and effective. 'Lean government' does not necessarily mean small government. The proper size and role of government is a centuries-old political debate. People have differing political views on this point, but everyone should want government to be efficient and effective. Lean government is a proven way to get there. It is a non-partisan expectation everyone can share," he says.
The first day of the conference will highlight speakers from the states of Colorado, Connecticut, and Washington, and the City of Baltimore. Each speaker will describe their improvement efforts, results, and lessons-learned. "The conference is aimed at introducing leaders to these proven methods and sharing ways to build high-performance government in Maryland," says Fuchs.
The second day of the conference will feature a forum and panel discussion to answer common issues and audience questions related to lean government. The panel includes lean government leaders from around the country and the Government Program Director of the non-profit Lean Enterprise Institute.
The 2015 Maryland Lean Government Conference will be held at the Radisson North Baltimore Hotel in Timonium, Maryland on Wednesday and Thursday, November 4th and 5th from 8 a.m. to 4:00 p.m. Conference information, case studies, and registration are at http://www.mwcmc.org/LeanGovernment. State, county, and city government employees across all departments are invited to attend. The conference is open to the public.
The Maryland Lean Government Conference is part of the larger Mid-Atlantic Lean Conference. The Mid-Atlantic Lean Conference will add exhibits, awards, and over two dozen additional speakers describing lean improvements in manufacturing, K-12 education, non-profit organizations, and healthcare.
The Maryland World Class Consortia is a 501c3 non-profit established in 1996. The MWCC provides educational and support resources that increase the competitiveness of Maryland businesses and other organizations, and that help grow the Maryland and regional economies.
For more information: Jeff Fuchs, MWCC Executive Director, (443) 865-2198 or jeff(at)leanmaryland(dot)com.
###