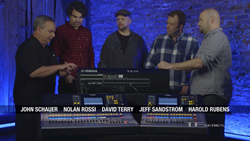 BUENA PARK, Calif. (PRWEB) October 27, 2015
Yamaha Corporation of America has released the first installments of Real Feedback, a 15-part video series that provides an entertaining inside look at how the Yamaha TF digital mixing consoles reimagine the live sound experience.
Hosted by John Schauer, product manager, MI Pro Audio, Yamaha Corporation of America, the unscripted videos take viewers on a tour of the inner workings of the mixer series and provide examples illustrating how easy it is to use the consoles' intuitive TouchFlow Operation™ interface to achieve the perfect mix.
Renowned sound engineers Nolan Rossi, Harold Rubens, Jeff Sandstrom and David Terry interact with the console and demonstrate some of their favorite features, providing valuable insight for novices and professionals alike. Highlighting the feature that allows engineers to pair channels, which helps organize the mix, for example, Rubens asked "why didn't everybody else do it this way?" As the conversations unfold, Shauer draws on his deep knowledge of the consoles to offer examples that showcase the concepts under discussion.
The TF series was recently nominated for the 2016 Technical Excellence & Creativity Award (TEC) Award in the Small Format Console Technology category, an achievement that coincides with the release of the video series. The TEC Awards, which honor outstanding recording and pro audio products, will be bestowed at the annual NAMM Show, held this coming January in Anaheim, California.
Yamaha TF digital mixing consoles allow engineers to respond to the music and artists on stage with unprecedented speed and freedom, taking live sound reinforcement to a new level of refinement. TouchFlow Operation reimagines the mixing experience with 1-knob Comp™/EQ™, GainFinder™, QuickPro Presets™, motorized faders, a multi-touch screen, mobile mixing and virtual soundcheck.
To view the videos, please visit http://4wrd.it/TFinfo. For more information, please visit the TF Community Facebook page at http://4wrd.it/facebooktf.
About Yamaha
Yamaha Corporation of America (YCA) is one of the largest subsidiaries of Yamaha Corporation, Japan and offers a full line of award-winning musical instruments, sound reinforcement and home entertainment products to the U.S. market. Products include: Yamaha acoustic, digital and hybrid pianos, portable keyboards, guitars, acoustic and electronic drums, band and orchestral instruments, marching percussion products, synthesizers, professional digital and analog audio equipment, Steinberg recording products and Nexo commercial audio products, as well as AV receivers, amplifiers, wireless multiroom audio systems, Blu-ray/CD players, earphones, headphones, home-theater-in-a-box systems, sound bars and its exclusive line of Digital Sound Projectors. YCA markets innovative, finely crafted technology and entertainment products and musical instruments targeted to the hobbyist, education, worship, professional music, installation and consumer markets.